Peda (sweet Indian Fudge)
Peda or Pedha is an all time famous and a favorite Mithai. It's easily available in all sweet shops, but try making it at home for your loved ones. It's an easy recipe plus you can control the sweetness of the Peda based on your preference. It is traditionally made with khoya/mava.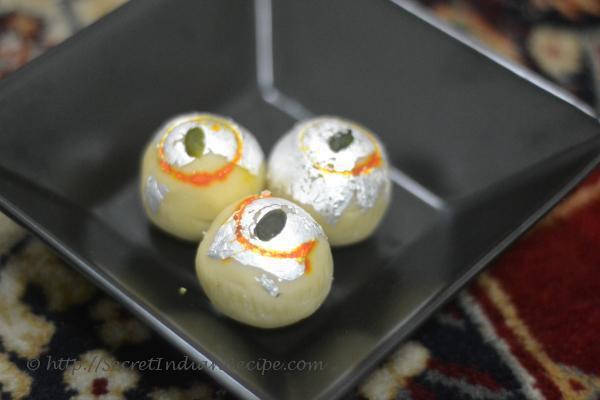 Ingredients:
1 kg white Khoya or Khova
4 Cups Powdered Sugar
1/2 Tsp Cardamom Powder
Few sheets of vark or Silver Foil (Optional)
1 Tsp Kesar (Saffron)
2 Tbsp Warm Milk
Few Pistachios for Garnish
Directions:
Grate Khoya into a thick pan
Add half of the powdered sugar to the pan and mix well
Place the pan on low heat and keep stirring to avoid the mixture to burn
Add Cardamom powder and let the mixture cook till it starts turning soft and gooey, this process should take about 10-15 minutes
Turn off heat and let the mixture cool down.
When completely cool add the remaining sugar and mix it with the khoya mixture well. While mixing rub it in between the palms and start making small rounds.
If you have a peda mould it will help. I have just made small even rounds.
To garnish, Place a small piece of silver vark on the peda (Optional)
And/or Mix the Kesar in the warm milk, dip the mouth of an open bottle (very small) into the kesar mix and gently place on top of the peda to form a kesari orange ring. You may also use color.
Place a pistachio in between the ring.
Serve cold or at room temperature
Footnotes:
Ricotta Cheese can be used instead of khoya.
You may add color to the mixture based on your preference
Sugar amount can be adjusted to make pedas less sweet