Peper Halua (papaya Halwa)
My father has a great love for sweets. He can't resist when it comes to sweets.He would rather choose the option of walking an extra mile to burn calories instead of controlling himself. I always try to make new sweet dishes for her.
Yesterday I had two papayas.One of them looked ripened but when I cut it, it was semi-ripe . Then I decided to make papaya halwa with it for my dear father. I was introduced to this dish by my friend Poushali. Last year I tasted this in her home. Later I got the recipe from her.
This halwa can be prepared with raw,semi-ripe and fully ripe papaya. But the taste of the halwa made with raw papaya is very different from that one made with ripe papaya. The amount of the sugar used for making halwa with raw papaya is quite different from that of ripe papaya halwa. Papaya halwa is delicious and very easy to prepare. This time I am going to share with you the recipe of raw papaya halwa. Here goes the recipe.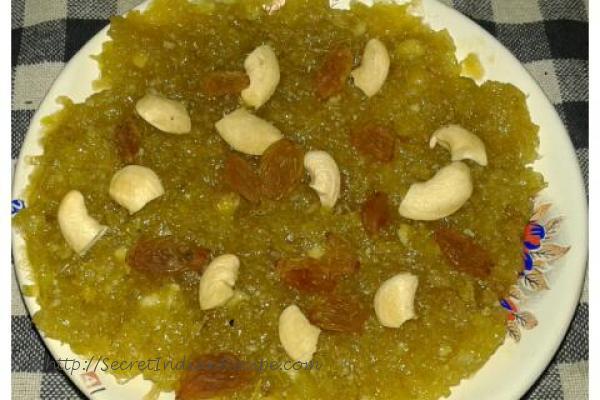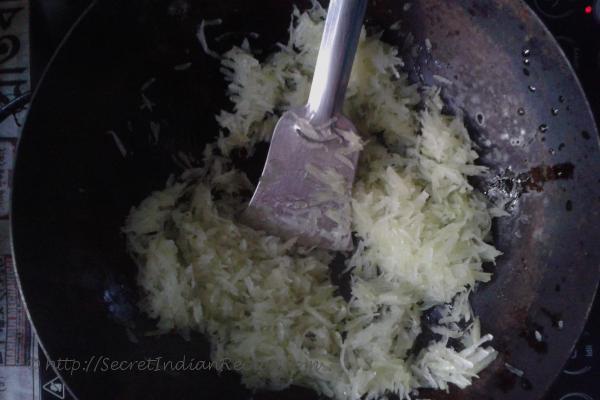 Ingredients:
Semi- ripe papaya - 5 cups (grated)
Sugar -10 tablespoons
Green cardamom - 5
Bay leaf - 1
Chopped cashew nuts -1 tablespoon
Raisins -1 teaspoon
Milk - 1 cup
Ghee - 3 tablespoons
Directions:
Heat a pan with ghee.Now add cashew nuts and fry till they turn slightly golden. Transfer it to a plate.
Now in the remaining ghee add the grated papaya and sauté them for 4-5 minutes on medium heat.
After 4 or 5 minutes add milk. Add cardamom amd bay leaf. Sprinkle rice flour and mix well to prevent lumps. Stir and cook on medium flame till the moisture almost dries up.
When the milk starts to boil, it will curdle. Don't worry. Keep stirring.
Add sugar.Mix well.Cook till the sugar dissolves properly and binds with papaya.
Add cashew nuts and raisins. Mix well.Then switch off the gas.
Let it cool for 20 minutes.
Footnotes:
Garnish with cashew nuts and raisins.Then serve.