Pepper Tawa Panner
Panner stater easily cooked and suitable for any party.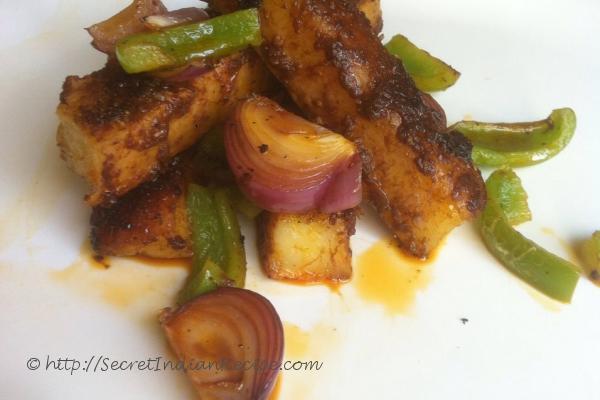 Ingredients:
Panner - 200 gm
Ginger garlic paste - 2 spoon
Soya sauce - 1 spoon
Chili sauce - 1 spoon
Chilli powder -1/2 spoon
Black pepper sauce -1 spoon
Tomato sauce - 1/2 spoon
Salt
Butter - 2 spoon
Spring onion, Capsicum, black papper powder for garnishing.
Directions:
Cut the paneer in any shape & keep aside.
Heat a non stick tawa & put 2 spoon butter in it.
Now put ginger garlic paste and all sauces in it and stir wall.
Add salt and paneer pics in it .
Fry in low flame for 2-3 mins and keep aside.
Now added chopped spring onion and capsicum in same tawa. stir for 1 min and turn off the gas.
Place a charcoal bowl ( in half bowl of desi ghee put a burning charcoal) and cover it properly for 5 mins.
Sprinkle some black pepper powder and serve hot.