Pesto Sauce Pasta
Pasta cooked in goodness of basil leaves and dry fruits !!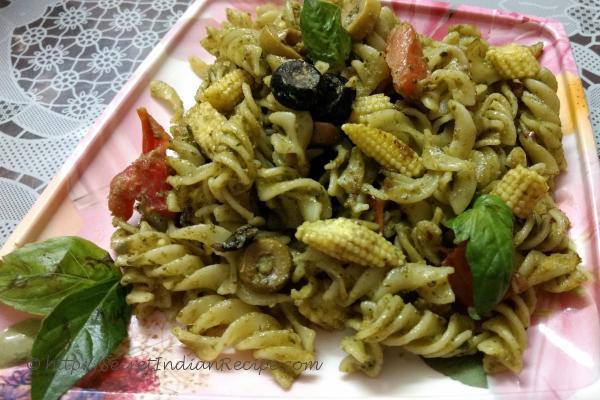 Ingredients:
1. Cashews & Walnuts – ½ cup
2. Basil leaves – 1 cup + 4-5 leaves for garnishing
3. Olive Oil – ¼ cup + 1 Tsp
4. Black pepper powder – ¼ Tsp
5. Chilli flakes – ¼ Tsp
6. Cheese (grated) – ¼ cup
7. Pasta – 250 gm
8. Salt – to taste
9. Italian/Pizza Mix – 1 Tsp
10. Cherry Tomatoes – 5-6 (cut into halves)
11. Baby corns – 5 pc (chopped)
12. Black olives – 1 Tbsp
13. Green olives – 1 Tbsp
14. Cooking oil – 1 Tsp
15. Garlic – 4-5 cloves (finely chopped)
Directions:
In a non stick pan, dry roast cashews and walnuts, transfer them in a plate, and let them cool down.
Finely chop basil leaves and transfer it in a bowl.
Add ¼ cup of olive oil, black pepper powder, grated cheese and salt to it.
Mix everything well, and let it rest for 10 minutes.
Meanwhile, heat water in a pan, add pasta, cooking oil and salt to the boiling water.
Once pasta is done, drain the water, and wash the pasta under running tap water for 2-3 times, so that the pasta cools down, and its cooking process stops. Keep it aside.
Grind cashews and walnuts in a mixer. Once it is powdered, add the bowl contents (from step 4) to it, and grind everything well to make a fine paste. Add water as per requirement for grinding the contents.
Pesto sauce is ready.
In a pan, add 1 Tsp of olive oil, garlic, cherry tomatoes and baby corns, and cook for 30 seconds.
Add green and black olives, and pasta, and sauté for another 30 seconds.
Add pesto sauce. Mix well and cook for a minute.
Add chilli flakes and pizza mix, and mix well.
Add salt, keeping in mind that boiled pasta, pesto sauce and pizza mix, all have salt in them. So taste the pasta once and then decide on the quantity of the salt to be used.
If your sauce is thick, you can add little water in the pasta and cook for couple of minutes to get the desired consistency.
Transfer the pasta in a plate or bowl. Garnish with basil leaves, and serve hot with a beverage and garlic bread on its side.