Pharah (steamed Lentil Indian Momo)
Pharah is traditional recipe of Bihar and uttarpradesh. It is a main course recipe and is usually served for lunch or dinner along with a spicy curry and Kheer.Although it can be made throughout the year but it is generally eaten on festivals like 'Bhaiya duj'j, or during' sawan ka mahina '(which is typically from august to September) or 'kartik ka mahina' ( which starts after Durga puja and ends after a month). In Hindu religion these mahina (Months) are considered as pious and hence people do not have non vegetarian food. Hence recipes like Pharah or dal ki puri or gobhi ke parathe are served.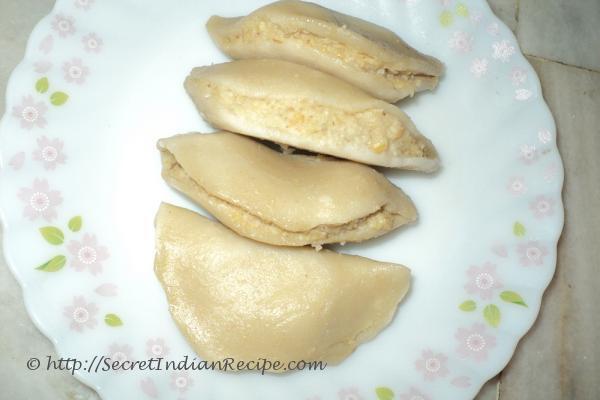 Ingredients:
Rice flour 100 grams (3.5 ounce)
Channa dal (Bengal gram lentil) 1 cup (soaked for 4 hours)
Safed Urad dal (peeled black lentil) 1 cup(soaked for 4 hours)
Rice 4 tablespoon(soaked for 4 hours)
Cumin seeds 1 tablespoon
Green chillies 2pieces
Hing (Asafoetida) 1 pinch.
Salt 1 tablespoon
Refined oil 2 -3 tablespoon.
Directions:
Wash and drain channa dal and urad dal and then grind it with rice, asafetida, salt, cumin seeds and green chillies till it become smooth batter. If needed add 2-4 tablespoon of water only. Please note that the batter should be quite thick so that the rice flour puries can hold it in between.
In a separate bowl take rice flour and add 4-5 tablespoon of flour and knid it very well. Make small balls from the dough.
Then take some refined oil in palm and make small purries by pressing the balls with your palm. Then place a small portion of the dal batter in between and fold the purries like semi circles. Repeat the process till the batter and dough finishes.
In a large pan pour 1 litre of water and place the parahas over a sieve, cover it with a lid and steam it for 30 mintues. Alternatively one can use a steamer.
To know if it is cooked or not, take a knife and poke it in pharahas.. If it comes out clean then the pharahas has been properly steamed. Take it out and serve it with Singhare ki sabzi or Aloo Gobhi and Kheer.