Phirni For Vegetarian And Vegan
My version of phirni has nutty flavor with hint of spice. I made with almond milk and sweetened with sugar, no diary which means this is for vegetarian and vegan but non-vegan/vegetarian can enjoy this desert as well. Low in calories and very healthy desert yet rich wonderful nutty flavor which satisfies you guarantee,.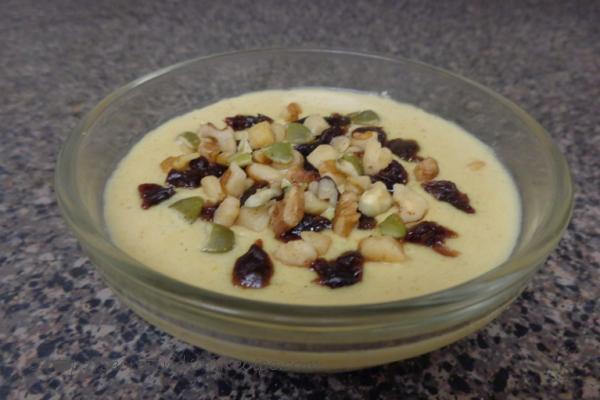 Ingredients:
1.5 tablespoons Rice flour
1 cup Unsweetened Almond milk
2 tablespoons Granulated Sugar
1/16 teaspoon Ground Ginger
1/8 teaspoon Curry powder
1/2 tablespoon Chopped nuts of your choice
1 tablespoon Dried fruits of your choice, chopped
Directions:
Put almond milk into a saucepan. Turn on the heat to medium. When the almond milk starts to boil, reduce heat to medium-low and add rice flour and granulated sugar to the saucepan. Whisk constantly until thickened (22-25 minutes).
Stir in ground ginger and curry powder. Turn off the heat, remove the saucepan from the heat and let cool. Then chill in a refrigerator (at least 1 hour).
To serve, sprinkle with nuts and dried fruits over the top.
Footnotes:
I added chopped walnuts, pumpkin seeds and dried cherry. Add your favorite nuts, seeds and dried fruits and enjoy!
Other Indian Recipes that you may Like !