Phodni Cha Bhat ( Rice Seasoned With Spices)
It is an extremely flavourful rice option and quite easy to make like 'Jeera Rice'. You can try this recipe if you have leftover rice in your kitchen.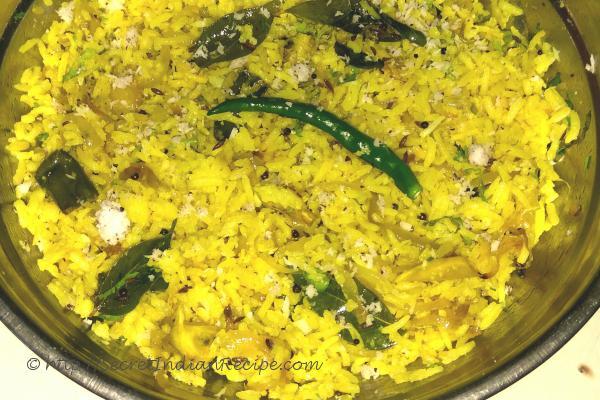 Ingredients:
Oil - 2 tablespoons
Mustard seeds - ½ teaspoon
Cumin seeds - ½ teaspoon
Green chili - 1, chopped finely
Curry leaves - 3-4
Onion - ½ cup, finely chopped
Salt - to taste
Turmeric powder - ¼ teaspoon
Red chili powder – ¼ teaspoon
Cooked Rice - 1 ½ cups
Sugar - a pinch, optional
Lemon juice - 1 teaspoon
Directions:
Heat the oil in a pan on medium heat. Once hot add mustard seeds, let them pop. Then add cumin seeds and let them sizzle.
Then add green chilies and curry leaves, let it cook for a minute.
Now add onions and salt, cook till onion becomes soft and translucent.
Mix in turmeric and red chili powder with cooked onions.
Add cooked rice and mix well.
Let the rice get fried for few seconds and then, turn off the stove.
Add sugar if using and squeeze some 10lemon juice, mix and serve.