Phrasbi Chi Bhaji
One of my sister in laws made this dish and we liked it so much that I often make it for my family. I have made changes from her recipe. Please write comments if you like it or what is it you do not like of it.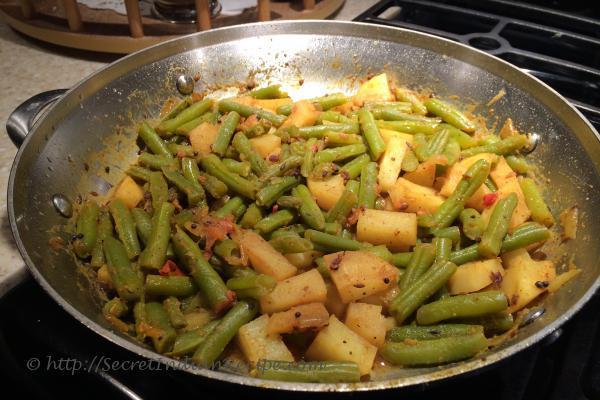 Ingredients:
1 pound green beans cut into small pieces (see tip)
1 medium onion chopped
One medium potato chopped
1 medium tomato chopped
4tbsp of oil
For tempering: ¼ tsp each of cumin seeds, crushed coriander seeds, hing, mustard seeds and fenugreek seeds
2 tbsp ginger garlic paste
1 tsp Maharastrian kala masala or to taste (see tip)
1 tsp turmeric
Salt to taste
Directions:
Heat oil in a large frying pan and when hot add the tempering items.
Add the ginger garlic paste and saute for few minutes. Be careful not to let it burn may add little water to prevent this.
Add the onions and sauté till soft
Add the tomatoes and again sauté for 2 to 3 minutes.
Now add all the spices and mix well.
Add the beans and potatoes and stir to coat. You may add ¼ cup of water at this time to make sure potatoes are cooked well and dish is not dry.
Cover and cook on low heat till done.
Footnotes:
You may use frozen cut beans then make sure they are fully defrosted before using
Maharastrian Kala masala is available in Indian stores, it may also be called Goda Masala.If you do not have it substitute red chili powder and garam masala for it using same total measurement