Pineapple Fired Rice (indian Style)
Rice is one of the staple foods of India. So rice recipes are very popular here and also easy to combine with other ingredients for some great dishes.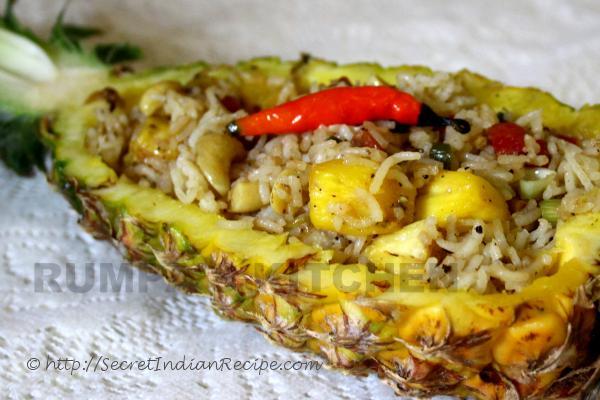 Ingredients:
1 and 1/2 cups fresh Pineapple, cut into 1/2″ pieces
1/2 cup Capsicum, diced
½ cup Carrot, diced
½ cup Cashew and Raisins
1/2 small Onion, finely diced
2-3 Green chillis finely chopped
½ cup Spring Onion
1 Tbsp Ginger, grated
1-2 Garlic clove, finely pieces
1 and 1/2Tbsp Soy sauce
½ teaspn Shahjeera or Caraway Seeds powder
½ teaspn Black pepper powder
1 Tbsp Pineapple juice
3 cups cooked and cooled Rice
Directions:
Heat oil in a hot wok/pan. Fry cashews, washed and drained raisins. add garlic and fry till the garlic turns aromatic and cashews turn golden.
Slide the cashews and raisins to a side in the wok/pan. You can set aside if you wish. Add finely diced onion, grated ginger, capsicum, carrot and green chilli.
When the capsicum is half cooked but crunchy, add spring onion and soya sauce and salt
Give a quick stir and add pineapples. Saute for a minute or two till you begin to smell pineapple
Add cooked and cooled rice and little more oil
Add Shahjeera or Caraway Seeds powder, black pepper powder and pineapple juice.
Toss everything well and fry for 2 minutes. Serve pineapple fried rice.