Pineapple Moru Curry (pineapple Cooked With Buttermilk)
Pineapple moru is a very special recipe in the moru collection. Unlike the vegetables often added to moru, this is one moru curry apart from the mango version, that uses a fruit in buttermilk preparations. This lends sweetness to the moru. Choose ripe pineapple for this moru not only for the sweetness but also because ripe pineapple has a strong smell compared to the raw ones and this aroma of the pineapple should permeate the moru above the tempering that goes into it. Though moru curry is only served with rice, this one goes well with rotis too.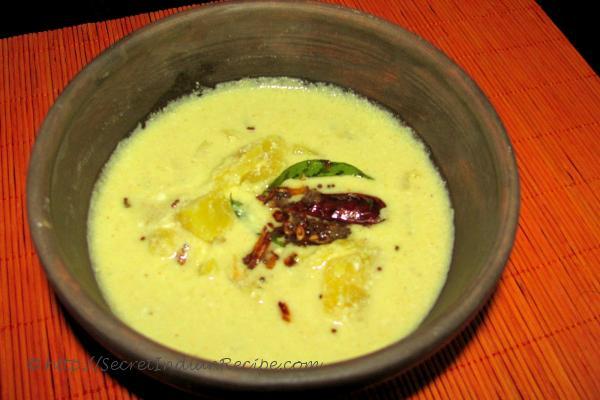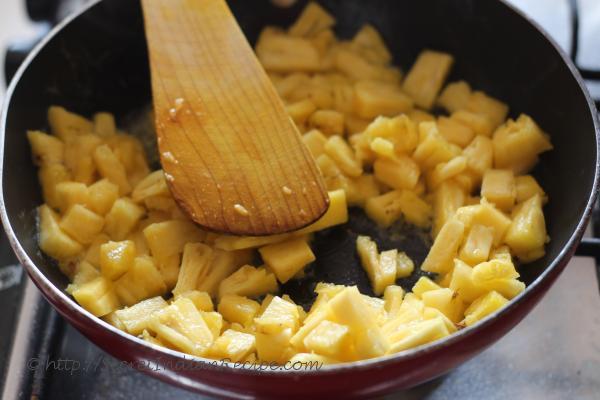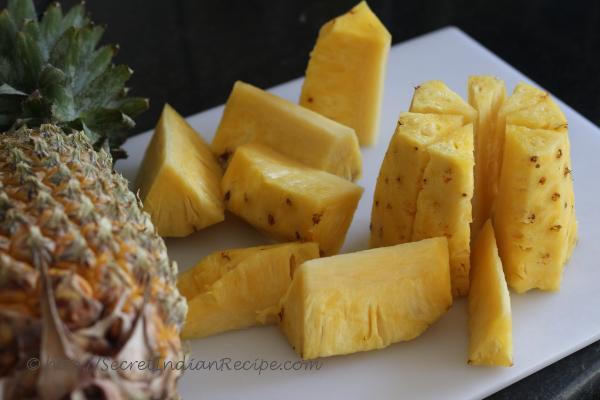 Ingredients:
Pineapple- 500g
Curd- 500 ml
Onion-1
Green Chilies- 2
Garlic- 6 cloves
Curry leaves- 2 stalks
Turmeric Powder- 1/2 tsp
Asafoetida- 1/4 tsp
Fenugreek powder- 1/4 tsp
Mustard seeds- 1/2 tsp
Dry chilies-3
Oil- 2 tsp
Salt- a pinch
Directions:
Peel and chop the pineapple to small pieces. Cook the pineapple with salt by sauteing them in a pan.
They need not be cooked much, in 5-7 minutes they will start to wilt and leave their juices.
Meanwhile, whisk the curd in a bowl and set aside.
Once the pineapple cools down, add it to the whisked curd.
Now for the tempering, heat oil in a pan and add the mustard seeds.
When the mustard splutters, throw the curry leaves and dry chilies. When the dry chilies are roasted add the chopped onions, ginger, garlic and green chilies.
Saute them for 3-4 minutes before adding the turmeric and asafoetida. Continue to saute for 2-4 minutes.
Transfer the tempering to the bowl with curd and pineapple. Whisk the curd as soon as the tempering hits the bowl.
Return the tempered moru curry back into the pan used for tempering and heat the moru for 2-3 minutes over low flame. Keep stirring continuously.
After 2-3 minutes, switch off the flame and take the moru off the stove. Serve with rice.