Poda Pitha ( Roasted Pancake)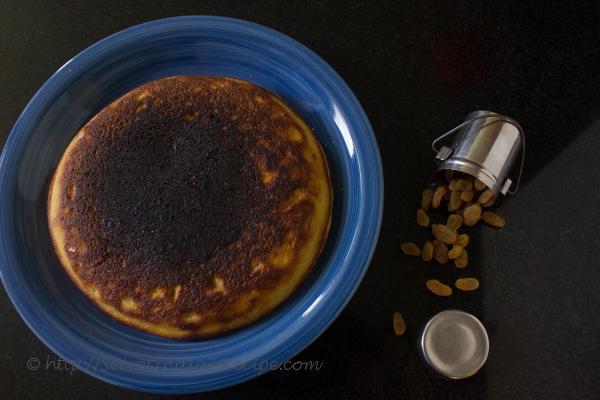 Ingredients:
Idli rice 2 cup
Whole urad dal 1 cup
Jaggery Powder 1/2 cup
Raisins 1/4 Cup
Roasted Peanuts 1/4 cup
Grated Coconut 1/2 cup
Refined Oil or Ghee 2 tbsp
Salt to taste
Directions:
Soak 1 cup whole Urad dal and 2 cup Rice in water for at least 3 hours. Then grind it in a Mixer grinder to a fine paste by adding little (as required) water to it. Keep the paste outside for at least 2 hours. Now the batter is ready.
Add Jaggery powder, Raisins, roasted Peanuts, grated Coconut and Salt to the batter.
Put oil or ghee on a pan and spread it nicely. Pour half portion of the batter onto the pan and cook it on a medium flame. Cook both sides of the pancake.
Repeat the procedure for the other half portion and it is done. You will get 2 Medium sized pancakes.