Poha Cutlet (flattened Rice Cutlets)
Poha is my staple! Many a times I have had left over poha from breakfast and therefore I came up with this tea time poha cutlets. It's an easy recipe and doesn't need a lot of ingredients. It can be made with leftover poha or fresh poha.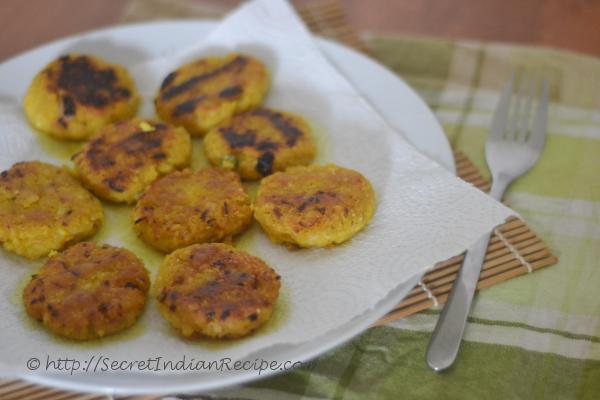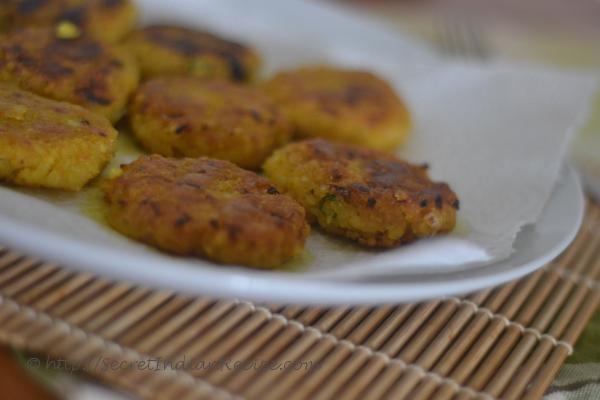 Ingredients:
Poha : 1 cup
Finely chopped onion: 1
Ginger paste: 1 tsp
Salt to taste
Red chili powder: 1/2 tsp
Turmeric powder: 1/4 tsp
Boiled potatoes: 2
Green chili finely chopped: 1
Coriander leaves chopped: 3 tbsp
pepper: 2 pinches
Veg oil : 2 tbsp
Directions:
Take poha in a bowl and wash it lightly with water. Drain the water immediately. Set aside and allow the poha to fluff up (Best way would be to use a sieved container waching poha in it under running water.)
In a clean bowl take potatoes and mash them fine.
Add onions, green chilies, ginger paste, coriander, red chili power, turmeric and pepper. Give it a slight mix
Now add the poha and salt. Knead all the ingredients together
If it's too watery and cannot be moulded into cutlets, add a tablespoon of besan or sattu aata. (If the poha is drained well and potatoes are not over cooked, the mixture should come together well)
Make medium sized round cutlets of the mixture and set aside
Heat 2 tbsp oil in a non stick pan. Slowly place the cutlets one at a time.
Cook till they turn golden brown on one side and flip. (May take 2 mins to cook on each side on medium heat)
When done, remove from heat and serve with green chutney or ketchup
Footnotes:
You may also use a maida slurry/ cornflour slurry and breadcrumbs as coating before shallow frying the cutlets. This gives the cutlets a more crispier texture..
Other Indian Recipes that you may Like !