Pointed Gourd (parwal)curry
Parwal or pointed gourd is the most common and widely available vegetable in summer. My mother used to cook it for Bhaja (Pointed gourd fry) almost daily for lunch.One day, I added some spices and turned it into curry.....I am sharing this recipe with you. Hope you will like it.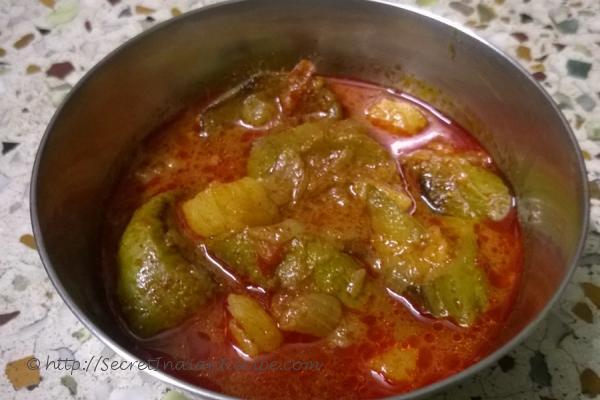 Ingredients:
Parwal 250gm
potatoes 2
Tomato 1
Onions 2 medium sized
Ginger & Garlic paste 4tablespoon
Turmeric powder 1/2 teaspoon
Red chilli powder 1/2 teaspoon
Kasmiri Lal Mirch powder 2 teaspoon
Jeera (cumin) Powder 1/2teaspoon
Dhania (Coriander) Powder 1/2teaspoon
Garam Masala powder 1teaspoon
Salt according to taste
Oil
Directions:
Cut parwals and potatoes into medium size ( 1 parwal into 3 same sized pieces), Heat oil in a karahi and fry the parwals till they turn light golden brown in colour. Take out and keep aside.
Fry the potatoes in the remaining oil till golden brown colour. Take out and keep aside.
Put 3 tbsp oil, add chopped onions and a pinch of salt to it so that onions became soft,fry till it turns golden brown in colour.
Now add kashmiri lal mirch powder to it and saute it in low flame , Once oil starts coming out from sides, then add 4 tablespoon ginger garlic paste , add turmeric powder, red chilli powder, cumin powder, coriander powder and little water and chopped tomatoes to it and saute it till the masala get cooked and start releasing the oil from sides.
Add the fried parwals and potatoes to it, Add salt according to taste, saute it for 1 mins and then add 2 cup water to it and cover it.
Let it boil for 5-10 mins. Remove the Cover and sprinkle garam masala over it and cover it for 2-3 mins more.
Serve it with Rice or Roti..!!