Pomegranate Halwa
#DiwaliRegionalRecipe Thanks Secret recipe for theme recipe. I recollect my childhood where we were not fond of any fruits at all. My Grandmother and Mom used to cook different variation in food, mithai from fruit pulp and juice. I am sharing this extraordinary recipe by twisting the one I had had once upon a time!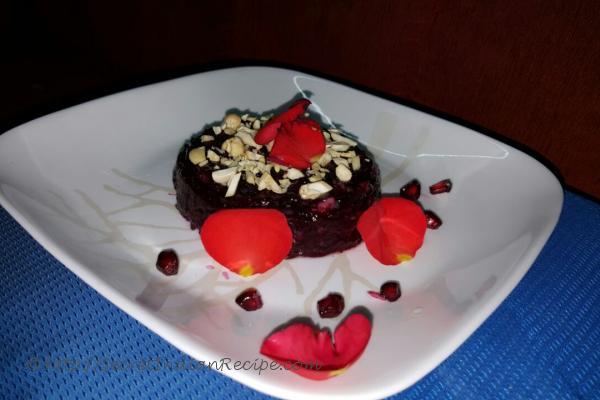 Ingredients:
Pomegrante juice - fresh 1 and 1/2 cup
Castor sugar 3 1/2 tbs
Cardamom powder 1/2 tsp
Strawberry puree 3 tbs
Agar Agar powder 2 tsp
Ghee 3 tbs
Crushed cashew nuts 2tbs + 1 tbs
Rose petals and few pomegrante seeds for garnishing
Directions:
In a non stick karai, pour the juice and straw berry puree and stir it continuously till it is reduced to half.
Add one by one castor sugar, ghee, cardamom powder and mix it.
After 2 minutes add Agar Agar powder ( already mixed with 2 tbs water) and 2 tbs crushed cashew nuts and mix it thoroughly.
Sprinkle crushed cashew nuts in a greased pan and pour the mixture.
Refrigerate it for 1 hour.
Now take out the mixture and demould it on a plate.
Decorate and garnish with crushed cashew nuts, rose petals and anar Dana.
Serve it cold or hot.