Pomfret Recheado (pomfrets Stuffed With Rechaedo Masala)
I have my family over this weekend and we are eating up a storm. Prawns in a spicy marinade and stuffed recheado Pomfrets. Recheado Masala is a Goan staple and a favourite in our family. Rechead means to stuff, as you will see from my recipes, I love to masala and stuff fish and vegetables. I think I might have professed my love for pomfrets a long time ago as well :)
The recipe for this masala yields quite a bit. Put in a glass jar it keeps for at least two months in the fridge because of the vinegar I assume.
Please try this recipe, I hope you like it :)
Enjoy!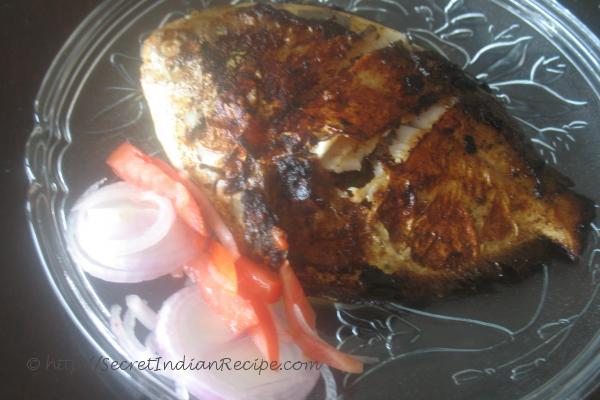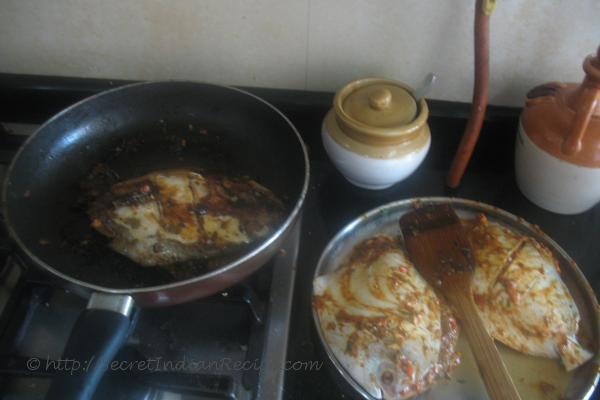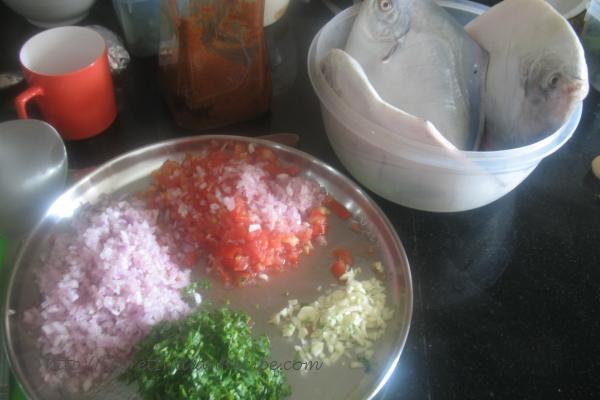 Ingredients:
1 Big Pomfret, or any fish for stuffing
Salt to taste, Oil for Frying
For the masala:
40 Dry Red Chillies
1 entire head of Garlic
1/2 inch of Ginger
6 Cloves
1/2 tsp Peppercorns
1 tsp Cumin seeds
1 tsp Mustard seeds
1 inch Cinnamon Stick
1/2 cup Vinegar
Directions:
Grind the Masala for the fish.
Slit the fish on both sides and salt.
Marinate the fish in masala and Let it be for a minimum of 45 minutes.
Fry in a little oil till cooked.
Serve hot and enjoy!
Footnotes:
The photograph with the ingredients has chopped onions, tomatoes, chilly and garlic. That is because you can also cook this whole masala with recheado masala and stuff your fish. For today, we have just a plain masala fish. Rechead means to stuff, Just in case you were wondering :)
http://secretindianrecipe.com/recipe/stuffed-pomfret This is the link to my recipe that has a whole pomfret stuffed with the chopped ingredients. Follow the instruction there and add the recheado masala in the end. You have another type of stuffed fish! :D
The spices and chillies are ground using vinegar only. Just so you know.
Other Indian Recipes that you may Like !