Poondu Thakkali Thokku - Roasted Garlic Tomato Chutney.
I like to make this Dish for Dosa and Rotis. The roasted Aroma of Garlic adds to the taste of chutney.
Garlic has many medicinal properties so it is good to have this dish very often.
It's a twist to the normal tomato chutney which we make usually.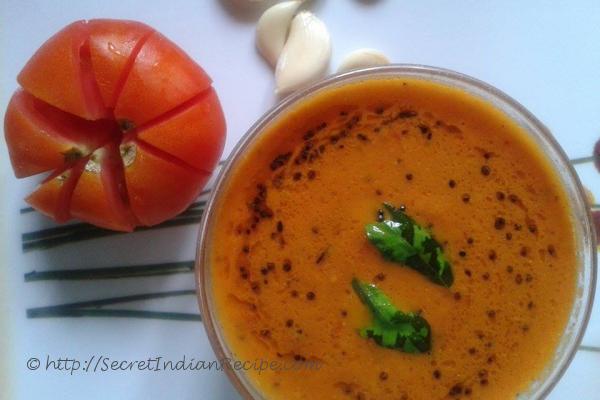 Ingredients:
Tomatoes - 1/2 kg (sliced)
Garlic - 20 pods (Peeled)
Onion - 2 chopped
Dry Red chilies - 5
Vegetable oil - 5 tbsp.
Urad Dal (Black gram) - 2 tbsp.
Mustard seeds - 1 tsp.
Cumin seeds - 1 tbsp.
Curry leaves
Turmeric powder
Salt - as per taste
Directions:
Place a Fry pan on flame and add vegetable oil and add garlic pods and roast it till it turns brown, add a pinch of salt to it.
Remove the garlic pods from pan and keep 10 roasted garlic pods aside. Now in the remaining oil add Urad dal and remove it carefully when it starts to change its colour, and keep it aside
Add chopped onions, as the onions turn golden brown, add dry chili and saute it for a minute and add sliced tomatoes.
Add turmeric powder, salt and saute the tomatoes for about 2 minutes. Add all this mixture along with the 10 roasted garlic pods to the mixer and grind it to a fine paste.
Now place a pan over low flame and add a tbsp. of vegetable oil and mustard seeds, once mustard seed starts to splutter add cumin seeds and curry leaves as per your choice.
Add the garlic pods which were kept aside followed by the ground paste and leave it on flame for 2 minutes and remove it from flame and serve it along with rotis, idlis or dosas.