Poori Khilangu
"Poori Khilangu" a magical combination that is perfect for any meal. Though there are many versions of Poori & Potato masala that are popular in various parts of the country, each one is unique in its own way. One such kind is Nellai's Poori Khilangu. It is one of the most sought after breakfast menu in all the eateries and households in Nellai district, Tamilnadu. Silky soft pooris are served with Urulai khilangu (potato) masala, which is a simple dish with very few ingredients but delectable in taste and rich in flavour.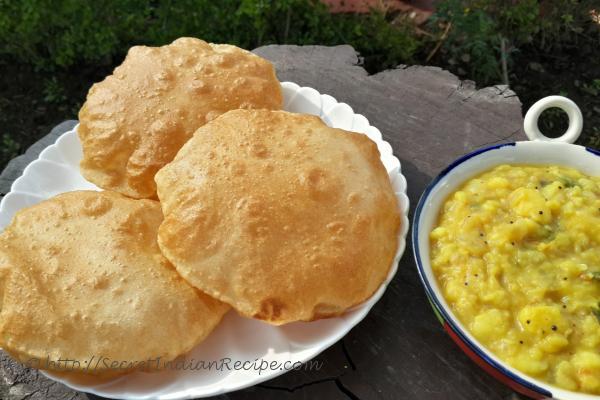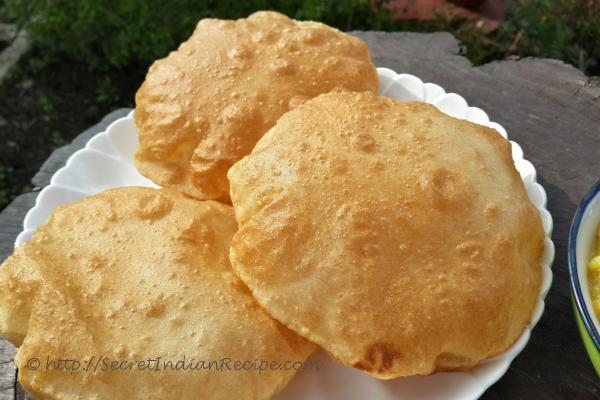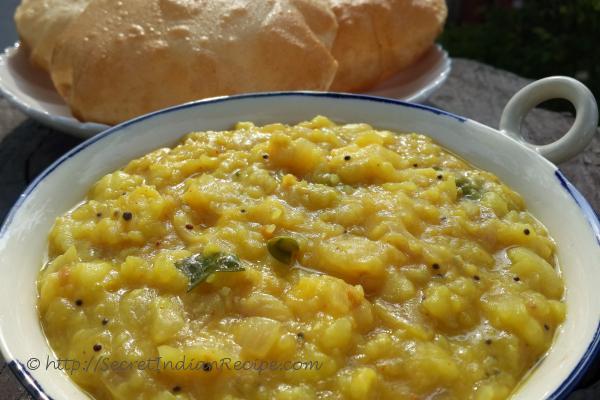 Ingredients:
Ingredients for Poori
Wheat flour/Aata – 2 cups
Maida – 1 tbspn
Sooji – 1 tbspn
Ghee – 1/2 tbspn
Oil – 1 tbspn
Salt to taste
Oil for Deep frying
Ingredients for Khilangu/Potato Masala
Potato – 3 medium sized
Onion – 4 big sized
Green Chillies – 3-4
Ginger- 1/2 tbspn, grated
Curry Patha- few leaves, torn into pieces
Oil – 2 tbspn (preferably sesame/til oil)
Mustard/Rai – 1/2 tsp
Urad Dhal, Chana Dhal – 1/4 tsp each
Haldi – 1/4 tsp
Sugar – 1/2 tsp
Red Chilly Powder – 1/4 tsp
Besan – 2 tsp
Salt to taste
Directions:
Method For Poori: Mix wheat flour, maida, sooji, ghee, oil, salt. Add water little by little and knead it into a firm dough, not too hard and not too soft like chapathi dough.
No resting time is required for poori dough. So, we can start making poori as soon as the dough is kneaded.
Heat oil in a kadai. The oil should be hot but not smoky. To check the temperature of the oil, just drop a small piece of the dough in the hot oil.
If the dough rises to the surface immediately and puffs up, then that is the correct temperature suitable to fry pooris. Lower the flame slightly and start rolling the pooris.
Take a small lemon sized amount of dough and roll it into a round shape. Roll it from one side evenly without putting any pressure on the rolling pin to get a smooth rounds without any cracks.
Slide one poori at a time in the hot oil. When it raises to the surface, press the edges gently using the back side of the spatula. This step helps poori to puff up nicely. Flip it once and fry both the sides till it is golden in colour.
Using a slotted spatula, remove it from oil and drain it in an oil absorbent napkin. Serve hot with potato masala/khilangu.
Method For Potato Masala: Boil and mash the potatoes coarsely .Cube the onions, finely chop the green chillies, grate the ginger, roughly tear the curry patha leaves. Mix 2 tsp of besan in 1/2 cup of water and keep it aside.
In a kadai, add 2 tbspn of til oil, add mustard. When it splutters add urad dhal and chana dhal. Fry till it turns golden. Add grated ginger, green chillies, curry patha and sauté for a second.
Add onions and sauté till it looks translucent. Add a glass of water, haldi, salt, sugar. The water should be just enough to immerse the onions. Cover it with a lid and give a good boil till onions are soft.
Add mashed potato and chilly powder. Mix the mashed potatoes with the onion well so that everything gets combined without getting burnt.
Add the besan paste and keep on stirring till the besan gets cooked. If required, we can add little more water, say 1/4 cup.
When the khilangu / masala looks glossy switch off the flame, Serve hot with Poori.
Footnotes:
Don't knead the poori dough for a long time like chapathi dough. While kneading, the gluten content in the dough gets released and thus makes roti/chapathi/paratha soft and silky. For poori, the dough has to withhold the gluten content intact so that we get crisp, puffed up poori. Do not fry the poori for a long time. They may become hard and dark in colour. Ensure the correct oil temperature throughout while frying. If the oil is too hot, the outer layer of the poori gets fried and the inner layer remains uncooked. If the heat is low, the poori doesn't puff up and absorbs more oil. Once fried, either serve the pooris immediately or store it in a wide opened vessel. Do not store it in a casserole as it makes the pooris to sweat and lose its crunchiness. Consume the hot pooris within 10-15 mins to enjoy the silky but puffed up poori! In potato masala, the amount of onion should be more than the qty of mashed potatoes.