Poornam Burelu (tofu - Carrot - Coconut Burelu )
#IndianDietRecipe - Poornam Burelu is a traditional and classic sweet of Andhra Pradesh served during the festive time. I changed the stuffing which makes it suitable for the lactose intolerants, Vegans. The tofu used here is gluten free , low calorie, contains no cholesterol and is an excellent source of protein, iron, and calcium. Kids love it too..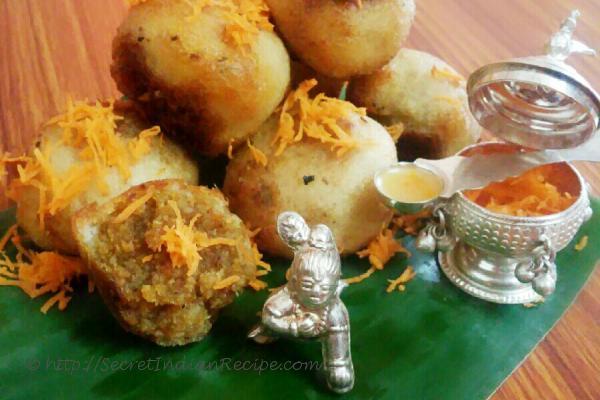 Ingredients:
For the outer layer - Raw Rice - 1 cup ,
Black Gram dal / Urad dal - 1/2 cup,
Salt - a pinch,
Sugar powder - 2 tablespoon,
Water - to prepare the batter.
For the filling - 1. Tofu - 2 cups,
Grated and roasted Coconut - 1/4 cup,
Grated and roasted Carrot - 1/4 cup,
Cardamom powder - 1/2 teaspoon,
Grated Jaggery - one and a half cups,
Oil - For deep frying ,
Water - 1 cup.
Directions:
Soak the raw rice and the black gram in water for 4 hours. Drain the water and grind the rice and the black gram along with salt to form a smooth textured batter like dosa batter. Now add sugar powder to this, mix it well & Keep aside.
For the filling : Take the tofu and wash it properly. Drain the water completely from the tofu . Then mash it.
Take a heavy weighted vessel, add 1 cup of water and heat it on high flame. Then add grated jaggery and stir it well over a medium flame until a string consistency is formed.
To this add drained and mashed tofu, coconut, carrot, cardamom powder and mix it well till a thick mix is formed. Switch off the flame.
Tranfer this mixture into a plate and make balls of this filling to form burelu. Let it cool for sometime.
In the meanwhile, heat oil on medium flame for deep frying.
Take the dumplings one by one and dip them in the batter so as to coat. Carefully drop these in the oil.
Fry them on both sides until they turn golden brown and are crispy. Now take the fried burelu using a slotted ladle and place them on an absorbent paper to remove excess oil.
Footnotes:
Drain water completely from the tofu while preparing the filling.