Potato And Quinoa Patties
This fabulous vegetarian dish could be served as an appetizer, a side or even part of a main meal accompanied with a salad. Do bring it to your dinner table the next time around and I'm sure it will please even the most staunch carnivorous dinner guests.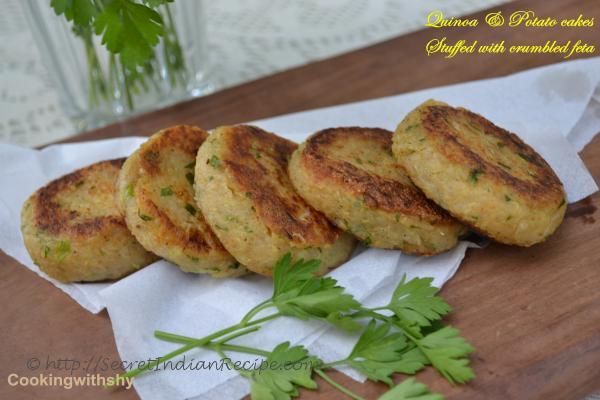 Ingredients:
3 medium Potatoes (boiled & mashed)
1 cup cooked Quinoa
1 small Red Onion (finely chopped)
¼ cup chopped Parsley
½ teaspoon Red chili powder
Salt and Pepper to taste
50-80 grams crumbled Feta Cheese
½ teaspoon Corn Flour
Oil to shallow fry the cakes
Directions:
Mash the boiled potatoes well and add the cooked Quinoa to the mix.
Next add in the chopped onions and parsley and mix well.
Now mix in the chilli powder, salt & pepper and the corn flour and knead till all the ingredients are well combined.
Take a small portion of the mixture and make a hollow in the center and add a small amount of the feta in there.
Fold the sides over and re shape into round flat patties/cakes and shallow fry.
Serve with your favorite dipping sauce.