Potato Patra
A variation of traditional patra, typical Gujarati dish which is made from plant leaves. This is made with mashed potato mixed with various spices.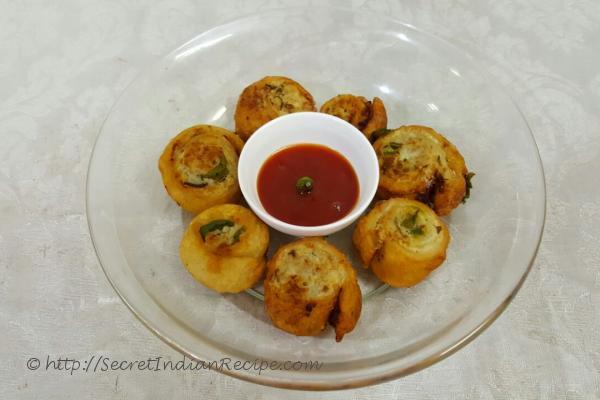 Ingredients:
1/2kg Boiled Potato
2 cups Flour
Lemon Juice of 1 Lemon
1tbsp Sugar
Salt as per taste
1tbsp Chilli Ginger paste
1/2tsp Garam Masala
1/4cup Coriander Chopped
1/4cup Mint Leaves Chopped
1tbsp Sesame Seeds
1/4cup Semolina (Rava)
250ml Vegetable Oil
3/4cup lukewarm water
Directions:
Peel off skin of boiled potatoes and mash them. Add lemon juice, sugar, salt, chilli ginger paste, garam masala, coriander, mint leaves, sesame to it and mix well. Keep it aside.
Take flour and semolina in a separate bowl. Add 3tbsp oil to it. Add 1/2cup lukewarm water to it and mix all to make a dough. Consistency of dough should be little hard compared to chapati dough. Add more water if required. Cover it and put it aside for half an hour.
Take a small piece of dough and roll it to approx 6inch diameter and approx 3mm in thickness. Spread potato mixture on to it, making sure it cover entire area. Cut this into vertical strips of approx 1/2inch each. Roll each strip. Press a little from both sides.
Take 250ml oil in a frying pan and bring it boil. Add Rolls one by one and deep fry it to golden brown.
Place these patras on a piece of paper to soak out excess oils. Then transfer them to a serving plate and serve with tomato ketchup. For garnish sprinkle coriander on patra.