Potato Sandwich
Mashed potatoes with spices spreaded over the bread and shallow fried until golden brown and crispy. #ChaiFingerFood Contest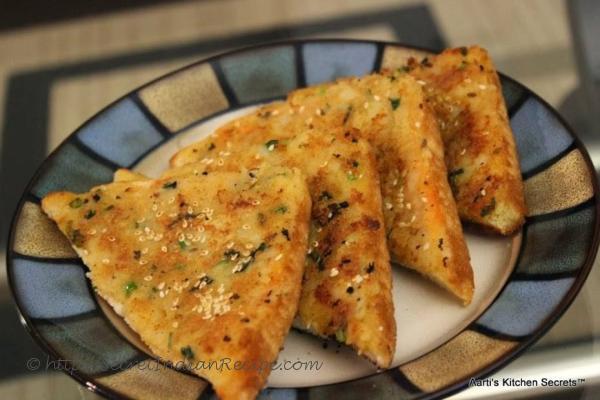 Ingredients:
Potatoes – 2 (Boiled, peeled and mashed)
Salt – to taste
Sesame Seeds – 1 tbsp (Optional)
Lemon Juice – 1 tsp
Red Chilli Powder – to taste
Ginger & Green Chilli Paste – 1 tsp
Garam Masala – ¼ tsp
Coriander Powder – ¼ tsp
Bread Slices – 7-8
Coriander Leaves – a handful (chopped)
Ghee/Butter – to shallow fry
Directions:
In a bowl add boiled and mashed potatoes, salt, lemon juice, red chilli powder, ginger & green chilli paste, garam masala, coriander powder and chopped coriander. Mix well.
Divide the bread into two equal portions (triangles). Spread the potato mixture on each bread slice evenly. Sprinkle sesame seeds over it.
Heat ghee/butter in a non-sticky pan and shallow fry them from both sides.
Serve hot with chutney or ketchup