Potol Posto ( Parwal In A Khus Khus Gravy)
Bengalis and Posto go hand in hand and they consume posto by the kilos..... unbelievable but true :)
This is another posto recipe besides the usual Aloo posto & Jhinge posto that Maa used to make.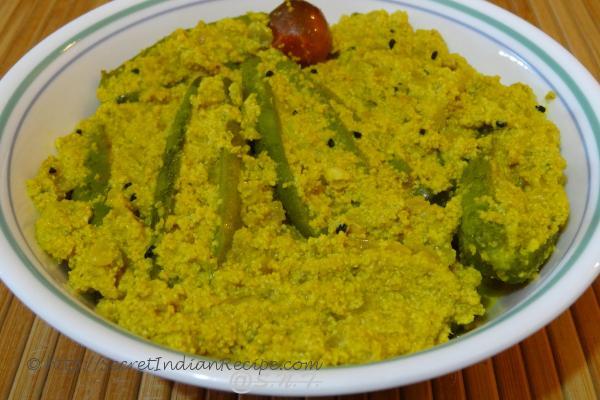 Ingredients:
250 gms Potol/Parwal/Pointed gourd
2 Tbsp Posto/ Khus Khus
2 Green Chillies
1 Red Chilli
1/2 Tsp Kala Jeera/ Onion Seeds
1 Onion chopped
2 Tbsp Mustard Oil
1/2 Tsp Turmeric
1/2 Chilli Powder
1/2 Cup Water
Salt to Taste
Directions:
Gently scrape the skin of the potol and cut them lengthwise into halves. Rub with a little salt and turmeric and keep aside.
Soak posto in a little water for an hour or so. Then grind it into a coarse paste with the green chillies in a mixer.
Heat oil in a wok and saute the potol for 4/5 mins.Then keep aside.
Add the Kala jeera and red chilli. Followed by chopped onions and fry till it is translucent.
Add turmeric, chilli powder and salt and cook the posto till the rawness goes, It will take about 5/7 mins.
Then add the potol and mix everything well. Add water for a little gravy and cook on low flame till done. Serve with steaming hot rice.....