Potoler Dolma (pointed Gourd In Coconut Based Gravy)
A famous Bengali vegetarian side dish recipe. Traditionally Potoler Dolma has been served in Bengali wedding ceremonies. In Bengal, coconut milk is rarely used in cooking except few well known recipes like ' Fish Paturi' or Chingri maacher Malai curry'. Coconut is usually added with snacks like Pakoras to give a crunchy and sweet bites. Potoler Dolma is perhaps the only vegetarian side dish, which has coconut milk. I have had this curry quite a number of times, cooked by my Mother In law, but never got an opportunity to cook it myself. Last Sunday, when we were alone and my Husband and Father in law were out for a business trip, I took assistance of my mother in law and cooked it myself. This experience of cooking the dinner together made this curry more special.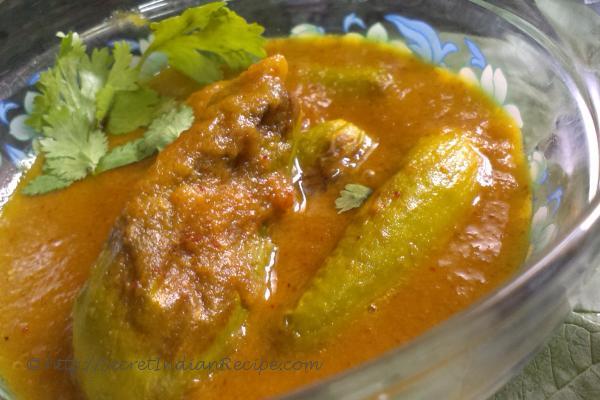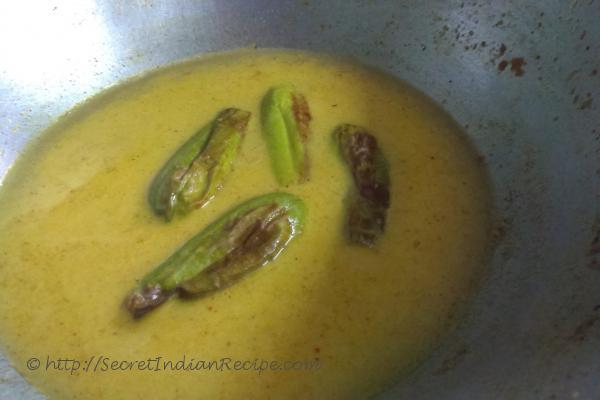 Ingredients:
Potol (Pointed Gourd) - 4 pcs
Onion - 1 small sized
Ginger and Garlic Paste -1 tablespoon
Red chili paster – ½ tablespoon
Turmeric powder – ½ tablespoon
Coconut milk – 1/4cup
Oil – 4 tablespoon
Salt - to Taste
Sugar – a pinch
Directions:
Wash the potol and chop off its ends. Then scrap the surface and again wash with water.Make small cuts on the surface to allow the gravy sip in.
Then heat oil in a pan and fry the potol on medium heat. As they strat turning a little brown, Take them out in a plate.
In the remaining oil, add the onion paste. Now turn the flame low and sauté it for 2 mintues. Add Ginger garlic paste, red chili powder and turmeric and mix. Continue to sauté till the oil separates out.
Now add the fried potol and some water and mix. Slowly add the coconut milk followed by salt and sugar to taste.
Cover the pan with a lid and cook the potol on low heat for about 15 mintues. Check if the potol is well cooked by piercing a knife or a fork.
Garnish with chopped coriander leaves and serve with steamed rice.