Potoler Dorma (stuffed Parwal ) - A Bengali Delicacy
Potoler Dorma or Stuffed Parwal is a Bengali delicacy. I have seen my mother cooking it since my childhood. This dish is a must in all our occasions.This is considered as a heritage dish of Bengal.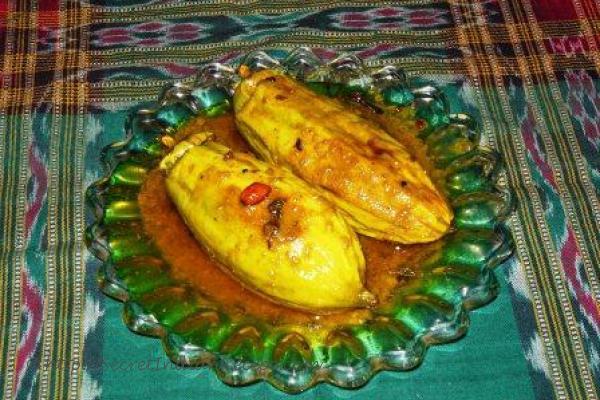 Ingredients:
Parwal 500 grms
Prawns 250 grms washed
Chopped onion -1 cup
Onion paste - 3 tablespoon
Ginger and garlic paste - 3 tablespoon
Turmeric Powder - 1/2 tablespoon
Chilli powder- 1/2 Tablespoon
Choped green chili - 2-3
Salt,sugar to taste
Pea-nut & kish-mish
Mashed potato - 1 cup
Oil - to fry
Whole garam masala - 1 cardamom, 1 clove, 1/2 inch cinnamon
Coconut milk - 1 cup
Wheat dough - 2 spoons.
Directions:
Brush off the peels with a knife; don't cut the peel of the parwal.
Cut the upper portion of the parwal like a small cap.
Scoop the seeds from inside.
In a pan heat oil. Sauté chopped onion, add two spoon of ginger and garlic paste, sugar,salt & turmeric powder and mix. Thereafter add prawns, fry till they become tender. Add potato mash, small pieces of pea-nuts and kish-mish and the scooped seeds. Fry on low flame till they mix well, add chili chopped and switch off the gas.
Let the stuffing cool a bit.
Make small portions out of the stuffing and fill them inside of the parwal. Fry the parwals till it becomes golden brown or you can first fry the parwals & then can fill the stuffing.
In a kadai heat oil, add garam masala, add the coconut milk and the remaining onion and ginger paste. Add sugar & salt & a pinch of red chili powder. When it starts boiling add the parwal. Don't forget to seal the edges of the parwal with the cut cap & kneaded wheat dough.
Let it boil for 15 minutes or till the required consistency is reached. Serve hot with steamed rice.
Footnotes:
For coconut milk either you can buy ready-made coconut milk or first grate the coconut. Boil in water for fifteen minutes. Get it cold and then extract the coconut milk from the coconut.