Prawn And Ash Pumpkin Curry (sungta Ani Boble Kodi)
Don't you just love it when you think of one of your favourite dishes and you have all the ingredients to make it? I just happened to remember this particular curry and realized I had a beautiful ash pumpkin sitting on my counter and Prawns in the freezer. Also, when I make this curry, I don't make a side of veggies because of the pumpkin already in it.
The trick to any curry in which you use both whole cumin and coriander is to double the amount of Coriander. I don't know why this is, just that too much cumin makes a curry bitter.
This curry is mild enough for a child to appreciate. I do give my little miss some with butter rice. She does not like prawns (much to my shock!) But she ate the Pumpkin when I mushed it up :)
If you like your curries spicy, feel free to add more chillies. I hope you try this one day and I always wish for you to have all the ingredients to the dishes you might think up on the spur of the moment :)
Enjoy!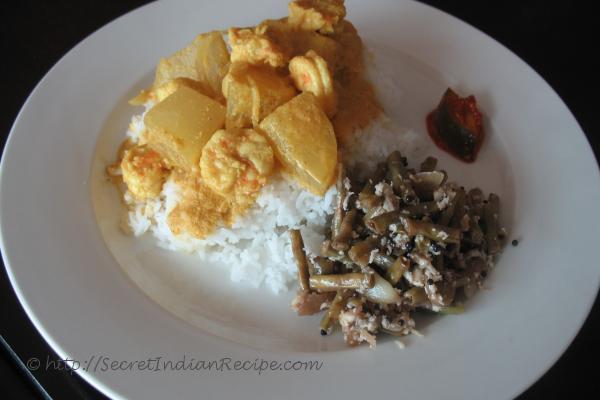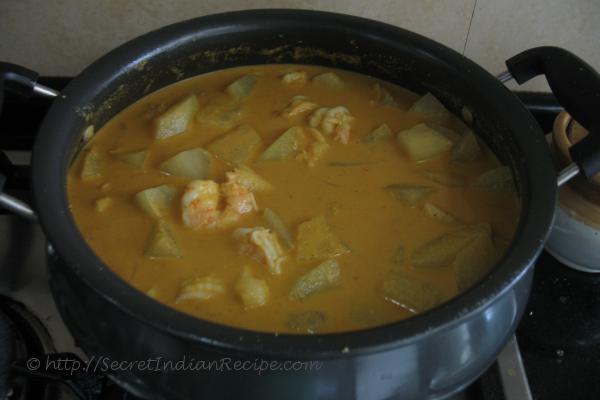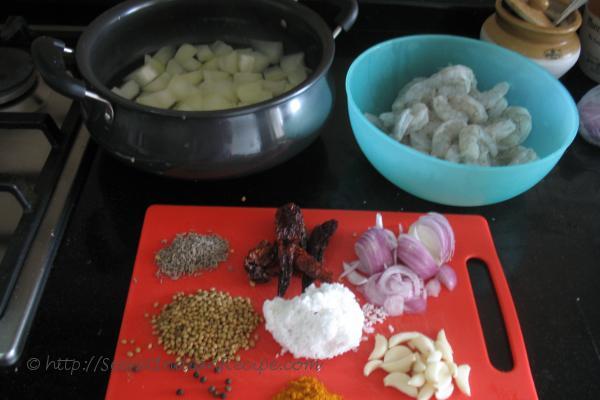 Ingredients:
1/2 kg Prawns, Cleaned and Deveined
1 large Ash Pumpkin, Peeled, cubed into 2 inch pieces and boiled in 1/2 cup water for 1 minute
1 large Onion, Sliced
5 Red Chillies
1/2 cup freshly grated Coconut
1 entire head of Garlic, peeled
10 Peppercorns
2 tbsp Coriander seeds
1 1/2 tsp Cumin seeds
1 tsp Turmeric powder
Salt to taste
Oil for cooking
2 tbsp Vinegar (more if you like)
Directions:
Take all the ingredients besides the Prawns and Cooked pumpkin and grind them in the mixer with a little water. It should resemble a smooth paste. I like to keep going till the coconut is very finely ground.
Take some oil in your vessel and fry off the ground masala. When the raw smell of the spices goes, this takes a minute, add the prawns and 1 cup of water. Stir and let it come to a bubble.
When the prawns are halfway done (this depends upon the size of your prawns) Add the pre-cooked pumpkin and stir till the pieces are coated in the gravy.
Let it come to a gentle simmer and cook with the lid on for a minute to let the flavours get absorbed into the pumpkin.
Serve hot with Rice or Roti.
Enjoy!
Other Indian Recipes that you may Like !