Prawns Sizzler
I found these amazing tiger-prawns at my local market... When I bought them I thought of making the usual prawn curry with coconut.. but once I got home, i saw the iron sizzling plate sitting on my kitchen top.. that's when I decided to try something different... So here it goes.. a simple yet delicious sizzling prawn recipe that goes perfectly well with steamed rice...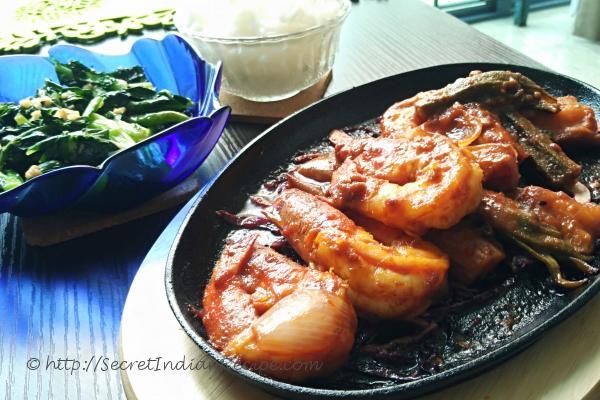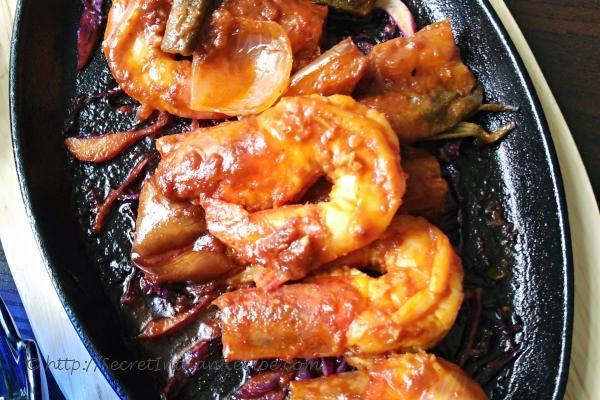 Ingredients:
Prawns : 250gms
Kashmiri Red chili powder : 1 tsp
Onions finely chopped or paste: 2
Onions thick sliced: 2 ( make broad slices and open up layers)
Tamarind paste: 1tsp
Turmeric : 1 tsp
Lady finger : 3-4 pcs
Cabbage shredded: 1/2 cup
Ginger garlic paste: 1/2 tsp
Sugar : 1/2 tsp
Salt to taste + 3/4 tsp for marinate
1/2 cup water
Veg oil: 3 tbsp
Directions:
Clean the prawns thoroughly. You may choose to de-shell the prawns or leave the shell on. Remove head, clean well, pat dry and transfer to a bowl
Add 1/2 tsp kasmiri chili powder, 1/2 tsp turmetic , 1/2 tsp salt. Mix well cover and set aside in refrigerator. Let it marinate a at least for 30mins
In a pot or kadhai heat oil. Add onion paste, ginger garlic paste and saute. Add a pinch of salt cover and allow the onion paste to cook till the raw smell goes away
Add the remaining red chili powder and turmeric. Mix well
Slit the lady fingers straight and add to the pot, add the thickly sliced onions.
Now add water, cover and cook on high flame for 5 mins
Now open the lid, add tamarind paste and sugar .
Add in the prawns.
Cover and cook for 10 mins on medium heat. Allow the prawns to cook and soak in all the amazing sweet, sour and spicy flavours
While the prawns cook, place your iron sizzling plate on an open flame. When it's smoking hot, drizzle a little oil. Let it remain on the flame
By now the water should have reduced and formed into a semi runny masala.
When the prawns are done remove from heat
For serving, arrange a bed of shredded cabbage on the iron plate. Be careful while doing so as the iron plate will be very hot by now. Place the prawns, lady finger, onions slices slowly on the sizzling plate....don't pour the masala yet.
Take the sizzling plate to your dining table and just before serving, pour runny masala onto the prawns in the sizzling plate. As soon as the liquid hits the iron, its emits amazing aroma and smoke... This adds the smoky flavour to the dish!
Enjoy with steamed rice!
Footnotes:
Serve immediately if serving as a sizzler. If you dont have an iron plate you can serve this as a regular prawn dish!
Other Indian Recipes that you may Like !