Pudachi Karanji / Layered Gujiya- Maharashtrian Cuisine
Karanji is a traditional Maharashtrian fried sweet dumpling made on special occasions like Diwali and Ganesh Chaturthi. Pudachi Karanji means the one having layers. A typical Maharashtrian Diwali Faral is incomplete without these delectable crescent shaped Karanjis. I always prepare this dish on Lakshmi Poojan day as naivedhyam.The Outer cover of this layered Karanji is made from Maida and Suji , while the stuffing can be either made from fresh or dry Coconut, along with dry fruits. To make the layers, 3 chapatis are rolled out of the dough and a spread ( Sata) is made using ghee and cornflour or rice flour and applied between these 3 chapati layers . The layers are rolled out, cut into small pieces and again each piece is individually rolled to a small round, stuffed with the filling and sealed, giving it a crescent shape. Finally the Karanjis are deep fried in Ghee .#diwalirecipe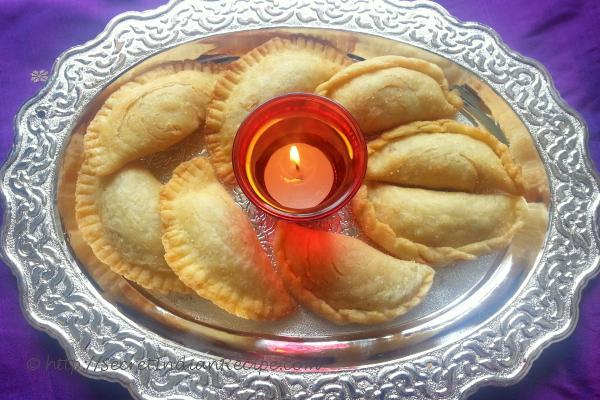 Ingredients:
For Cover 1 Cup Maida / Refined flour
1/4 Cup Suji / Semolina
2-3 tbsp hot Ghee
5-6 tbsp warm Milk or as required to knead the flour.
Salt to taste
For Stuffing: 5 tbsp grated dry Coconut
5 tbsp powdered Sugar or as per taste
1 tbsp roasted Poppy seeds
1 tbsp roasted Sesame Seeds
1 tbsp roasted Suji
2 tbsp Raisins
2 tbsp chopped Almonds and Cashews
1/4 tsp Cardamom Powdered
For Spread ( Sata ) 3 tbsp Rice flour
2 tbsp Ghee
Other Ingredients: Ghee / Oil for deep frying the Karanjis
Directions:
In a mixing bowl take the Maida , Suji and Salt . Heat up 2 tbsp ghee and add to it. Mix well to get a crumbled mass.
To this add warm milk slowly and knead the flour to get a medium consistency dough. Cover it and keep aside for 30 minutes.
Mean while to make the filling , dry roast the grated Coconut, Poppy seeds , Sesame seeds , Suji, Almonds and Cashews separately in a pan on low to medium heat. Let all this cool down in a bowl. To this add the powdered Sugar, Cardamom powder , and Raisins . The filling is ready.
Make the Sata / spread by whisking the ghee and rice flour together until a smooth mixture is formed.
Divide the dough into three equal parts and roll out thin rotis out of each part. Now take one roti , apply sata evenly on it, keep 2nd roti over it , again apply sata and keep third roti, again apply sata and roll the three together firmly to form one big roll.
Stretch out the roll little and cut into small pieces using a sharp knife. Now roll out each piece separately into a poori size, add enough stuffing on one half of the round and cover it by the other end. Apply milk on the edges and seal the karanji giving it a crescent shape. Decorate the edges either using a fork or make small folds of the edges .
Deep fry the Karanjis in Ghee / Oil on a low to medium heat until they turn golden in colour from both the sides. On cooling transfer them to air tight container. They remain good at room temperature for 8-10 days.