Pudalangai Kadalai Poriyal - Snake Gourd Rings With Groundnuts
Snake Gourd helps in weight loss. It's known for the cosmetic & therapeutic properties. It is a low calorie vegetable, so it is good to eat, if you are aiming for weight loss. For the same reason, it is good to keep your diabetes under control. Try this and I'am sure you will make this recipe repeatedly, for it's taste and medicinal properties.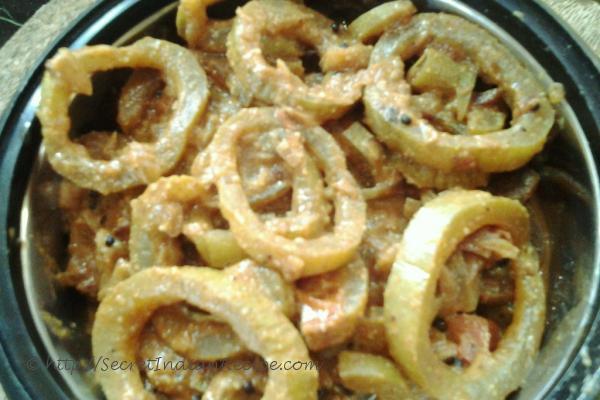 Ingredients:
Snake gourd - 1
Onion - 2 finely chopped
Tomato - 1 chopped
Cumin seeds - 1 tbsp.
Mustard seeds - 1/2 tbsp.
Turmeric powder - 1/4 tsp.
Red Chili powder - 1 tbsp.
Groundnut - 50 grams (roasted and powdered)
Vegetable oil - 2 tbsp.
Salt - as per taste
Water - 1 full glass
Directions:
Chop the top and bottom edge of the snake gourd and slightly scrub on top of the vegetable using knife.
Now cut the vegetable into 4 parts so you can remove the inner portion of the snake gourd which contains the seeds.
Cut the vegetable into round shape as shown in the picture. Now place a pan on low flame and add groundnuts.
Roast it for 2 minutes or till it turns its colour and remove it from flame. Crush it slightly with your hands and you can peel off the skin on groundnuts.
Grind the roasted groundnuts into a fine powder and keep it aside. Now place a pan on flame and add oil, once oil is hot add mustard seeds.
When mustard seeds start to splutter add cumin seeds and onions. Saute the onions till it turns golden brown and then add chopped tomato to the mixture.
Saute for about 2 minutes and add the sliced snake gourd and sprinkle some salt over it and saute it for 5 minutes.
Now add water to the vegetable and add turmeric powder and chili powder. Stir it well and place the lid on top and leave it to cook for about 5 minutes.
Check if the water is completely absorbed and if the vegetable is cooked well. Add the powdered groundnuts and saute for few seconds and remove it from flame.
Serve it hot as side dish for rice.