Pudina Palak Paneer ( Cottage Cheese In Spinach And Mint Gravy)
Palak Paneer is a globally loved dish of all Indians. But giving your usual Palak Paneer a heavy dash of mint only accentuates its flavors further. Try this Hara Bhara Paneer recipe, I bet you and your guests will love it.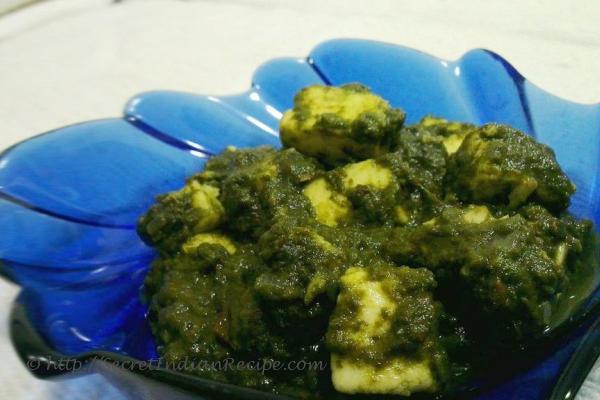 Ingredients:
300 gms Paneer Cubes
1 cup Spinach
1/2 Cup mint leaves
2 Tbsp Coriander chopped
1 big Clove garlic
1 Tsp Ginger Chopped
2 Green Chilies (or as per your liking)
2 Medium red Onions finely chopped
1 Tomato finely chopped
1/2 Tsp Ginger Garlic Paste
1 Tsp Dhana Jeera Powder
1 Tsp Haldi (Turmeric Powder0
1/2 Tsp Anardana Powder (pomegranate Seed powder)
1 Tsp Garam Masala
2 Tbsp heavy cream or butter
3 Tbsp Milk
Salt to taste
4 Tbsp Oil
1 Badi Elaichi (Black cardamon)
1/2 Tsp sugar
Directions:
Preferably use fresh Paneer, but if you are using frozen Paneer, thaw it in hot water and keep aside. Do not fry the Paneer in oil, just thaw and keep aside.
Follow similar process with frozen spinach, thaw in hot water till it becomes soft. If using fresh spinach, keep immersed it in hot water for 2-3 minutes or till its soft and darker in color. Remove and set aside.
In a pan/kadhai heat oil, add badi elaichi, onions and saute till golden brown. Then add chopped tomatoes, hali,dhana jeera, anardana powder, ginger garlic paste and mix well.
Add salt, cover and cook on medium heat. The Masala needs to come together well.
While the Masala cooks, blend spinach, coriander leaves, green chilies, mint leaves, chopped ginger and garlic to a smooth paste. Use a little water to blend smoothly.
Check if the Masala is cooked through well, add the green blended mixture to the masala and stir. Add sugar and a little more salt. Cover and cook on medium heat for 3-4 mins stirring occasionally
Now add in the paneer, cream, garam masala and milk. Mix well and cook for another minute. Remove from heat and serve hot with rice or rotis
Footnotes:
For a healthier version you may replace Paneer with Tofu and skip the cream/ butter and add a little more milk instead.
The same green masala recipe can be used with soya bean as well instead of paneer.