Pudine Wale Dum Aloo (potatoes Cooked With Mint Leaves)
This recipe is 'food on wheel'' for me as I often cook it and carry when I am travelling. It is a spicy but dry preparation and is cooked without adding any water. Mint was used for its medicinal properties like to treat 'Heat strokes' or Diabetes in ancient India. The usage was limited to sharbets, drinks and chutney. It was with the advent of Mughals, mint got its appreciation as flavoring agent. Mint leaves are frequently used in 'Biryani' and 'Chaaps' for its unique flavor. Few years ago, I was also a bit apprehensive about adding pudina in my curries. My roots from Uttar Pradesh limited my experiments to Coriander Leaves only. However my instinct of trying new recipes and making innovations with the old recipes forced me to accept it. Today, I am sharing a very basic Pudine wale aloo recipe. If you carefully read it, you will find, it is simple dum aloo recipe with a simple addition of mint paste…..and it tastes so different.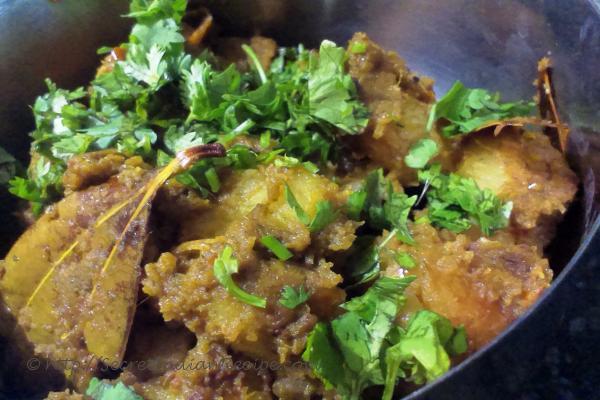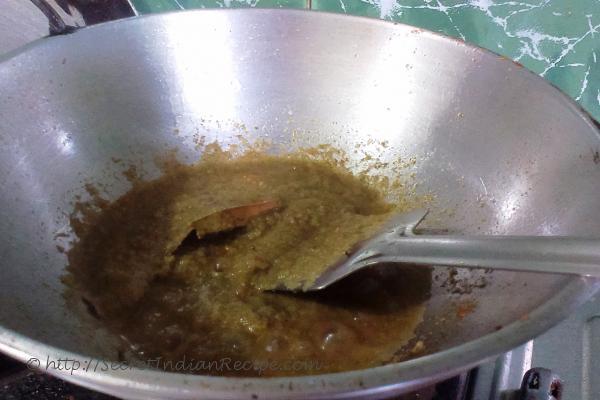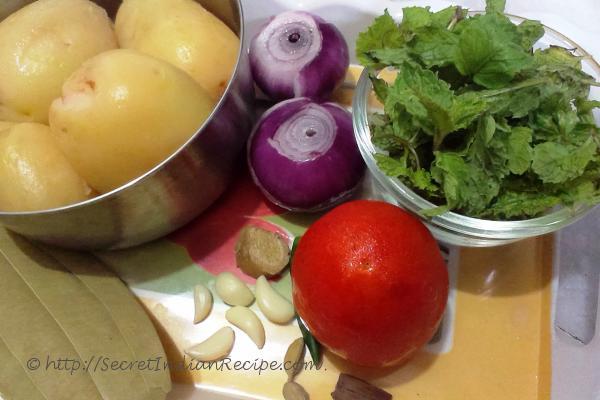 Ingredients:
Boiled Potatoes – 250 grams
Pudina (Mint Leaves) – 1 cup
Onion – 2 medium sized
Tomato – 1 medium sized
Ginger and garlic paste – 1 and ½ tablespoon
Green chilies – 1-2 chopped
Turmeric powder – ½ teaspoon
Red chili powder – ½ teaspoon (Optional)
Bay leaves – 1-2
Green cardamoms – 2
Cloves – 1-2
Cinnamon stick – ½ inch
Garam masala powder – ½ teaspoon
Salt to taste
Oil – 4 tablespoon
Green Coriander Leaves – ½ cup chopped
Directions:
Chop the boiled potatoes into medium sized pieces and keep aside.
Take pudina, onions, tomatoes, green chilies and 1 cardamom in a grinder and grind into paste.
Heat 2 tablespoon of oil in a pan and add the chopped potatoes. Keep the flame high and fry them till the sides brown. Take them out on a plate.
Add the remaining oil and allow to heat. Add crushed bay leaves, cardamom, cloves and cinnamon stick. As they start releasing their aroma, add the grounded masala paste. Add turmeric powder and red chili powder and sauté for about 6-7 mintues or till the raw smell disappears.
Now add the fried potatoes, garam masala powder and salt and mix. Keep the flame low and cook till the excess water evaporates and the potatoes are well coated with the masala.
Add chopped coriander leaves and serve hot with Paratha or chappati.