Puli Inji (sour Ginger Pickle)
Puli Inji is a traditional pickle from Kerala which is made during Onam. It is a yummy and tasty pickle. I got this recipe from a friend who stays in Kerala.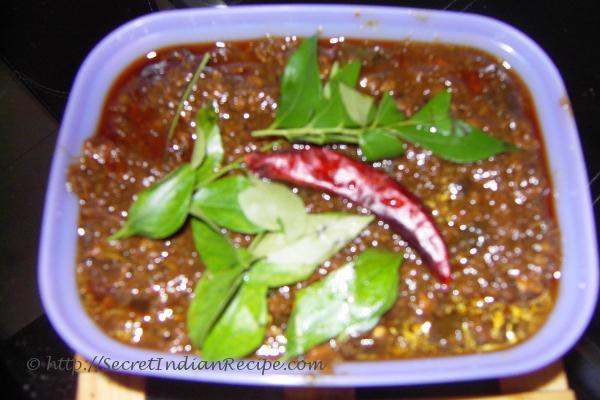 Ingredients:
Ginger- 2cups
Tamarind juice- 1cup
Chilli powder- 2 Table spoon
Turmeric powder- 1 Table spoon
Green chillies- 4 pieces
Onion - 2 (chopped)
Mustard seeds - 1 table spoon
Curry leaves
Red chillies-3
Jaggerry- 1 cup
Oil - 2 tablespoon
Salt - to taste
Directions:
First put a tablespoon of oil in a pan.
And ginger and wait till it becomes brown.
Take out and crush ginger to small pieces.
Heat remaining oil the pan and add mustard, onion, red chilli, green chilli, chilli powder, turmeric powder and tamarind pulp.
Now add Jaggery and salt and mix well.
Boil the gravy till becomes thick.
Garnish with Curry leaves.
Footnotes:
We can add quantity of tamarind juice with our own interest.