Puli Semiya - Sweet And Sour Vermicelli With Roasted Cashewnuts
Unlike our regular semiya or sevige upma, this puli semiya has a mild sour taste and has the flavor of biryani.
It's a vegetarian dish which is easy to cook and saves lot of time.
It goes well with Coconut chutney, ellu chutney or curry leaves chutney.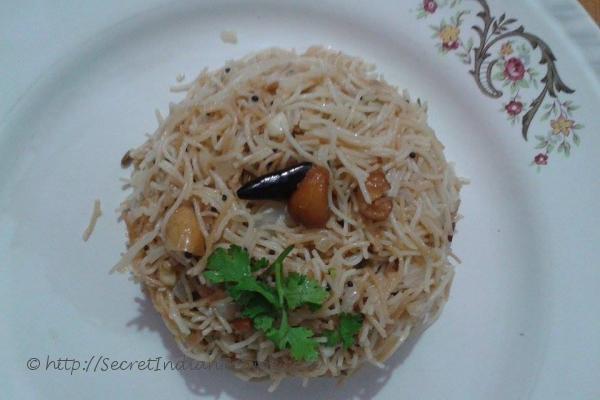 Ingredients:
Vermicelli or Semiya - 1/2 kg
Onion - 2 finely chopped
Crushed garlic pods - 4
Cashewnuts - 10 (Roasted in ghee or oil)
Turmeric powder - 1/4 tsp.
Coriander powder - 1/2tsp.
Vegetable oil - 5 tbsp.
Mustard seeds - 1/2 tsp.
Lemon juice - 1 spoon
Sugar - 2 spoons
Dry Red chillies - 2
Coriander leaves
Salt
Ghee - 1 tbsp. (optional)
Directions:
Place a pan on low flame and add a tablespoon of vegetable oil and roast the vermicelli for about 2 minutes and keep it aside
In the same pan add a spoon full of ghee or vegetable oil and roast cashew nuts till it turns light brown and keep it aside.
Now place the pan in low flame and add 4 tbsp. of vegetable oil, Mustard seeds once the mustard seeds starts to splutter add finely chopped onion, Dry red chilli and crushed garlic.
Saute it till the onion turns golden brown and add turmeric powder, coriander powder and saute the mixture.
Now pour water to the measure of 1:2 of vermicelli and add salt and leave the water to boil.
In approximately 2 minutes you might see the water boiling, now add the roasted vermicelli slowly to the pan and mix it gently.
Check if the vermicelli is cooked well, just before you can remove the pan from flame you may add lemon juice and coriander leaves. Leave it on flame for a minute and remove the pan.
You can sprinkle sugar and roasted cashew nuts on vermicelli and serve it hot with tomato sauce or chilli sauce or any chutneys of your choice.