Pulihora Andhra Style
Pulihora is a common rice preparation in the South Indian states of Andhra Pradesh, Telangana, Karnataka and Tamil Nadu. As Hindus consider turmeric powder a symbol of auspiciousness, Pulihora is usually cooked on special occasions and festive days. It is also given as prasadam in some temples.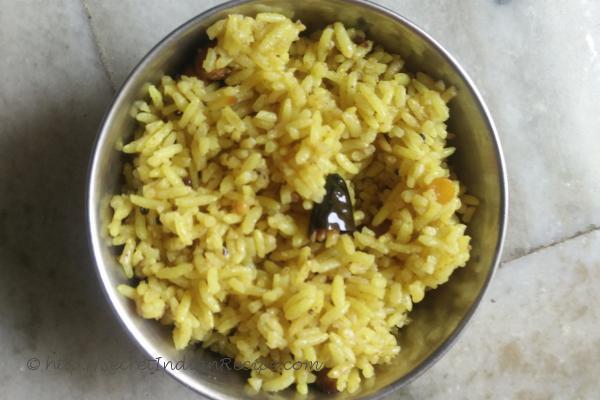 Ingredients:
Rice 1/2 kg
Green chillies : 6
Ginger :1 tsp
Curry leaves : 1 bowl
Tamarind : 6 tsp
Oil : 1/4 bowl
Salt as per the taste
Turmeric powder : 1 tsp
Ground nuts : 25 gms
Chana dal (Split Bengal Gram) : 2 tsp
Urad Dal (Split Black gram) : 1 tsp
Mustard seeds : 1 tsp
Kashmiri Chillies : 3 pieces
Directions:
Cook 1/2 kg rice in cooker.
Cut green chillies and ginger finely.
Take cooked rice in a vessel, add litle curry leaves, 1tsp salt, add 1 tsp oil to turmeric powder and mix all these into cooked rice.
Heat 1/4th bowl oil in a pan, add ground nuts and red chillies let them fry, separate them from oil, add to rice.
Add 2 tsp channa dal to oil, let it fry till golden colour, now add 1 tsp Urad dal, 1&1/2 tsp Mustard Seeds, Green chillies, 1 tsp ginger pieces, 2 stems curry leaves.
Add 6-8 tsp Tamarind paste (1 pinch sugar or Jaggery added if necesarry), 2 tsp salt and keep it for 1 minute.
Mix the ingredients to rice thoroughly.
This Tamarind Pulihora is ready to be served. You can have it as breakfast or as a special item on festivals.
Footnotes:
The paste of the Pulihora can be stored for 1 month if it is placed in Freezer.