Pumpkin Orange Fudge
#DiwaliRecipeContest
This is slight different recipe than the traditional fudge which is mainly prepared using sugar, butter and milk. heating it to the soft-ball stage at 240 °F(116 °C), and then beating the mixture while it cools so that it acquires a smooth, creamy consistency. It can be flavored using Fruits, chocolate, dry fruits etc.
In this recipe, I have used grated white Pumpkin, full fat milk, orange candied peels and sugar. It's a sweet dessert, easy to prepare and tastes amazing.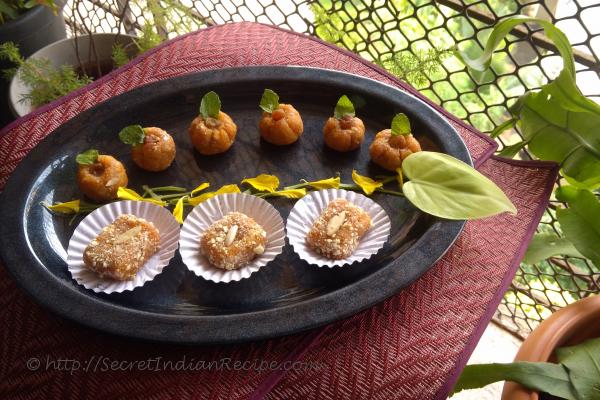 Ingredients:
White Pumpkin– 2 ½ cup washed, Peeled and grated
Candied Orange Peels – 1/2 cup
Sugar –1/2 – 3/4th cup
Nutmeg powder – 1/2tsp
Cardamom Powder – 1tsp
Dry fruits crushed – ½ cup - Almonds, Cashew nuts and Raisins(Whole)
Full Fat Milk – 1cup
khoya/mawa – 3/4th cup
Edible Food Colour – 1/4th tsp
Ghee – 2tbsp + ½ tsp for greasing
Garnishing – Cashew nut coarse powder, Raisins, Mint leaves, Peeled and Slivered Almonds
Directions:
Wash White Pumpkin. Grate it.
Blend Candied Orange Peels with little sugar.
In a nonstick pan or kadai, heat ghee, add grated Pumpkin. Stir and cook for 2-3 minutes.
Add Sugar. Stir. let sugar melt.
Add milk, bring back to a boil cook until mixture becomes bit thick.
Add khoya or Mawa, crushed Dry fruits, edible orange food colour, blended candied orange peels and nutmeg and cardamom powder.
Keep stirring constantly, for 10 -15 minutes on medium flame until mixture gathers to a mass and leaves the pan sides.
Remove the fudge from the heat, Cool it for 2-3 minutes and transfer into the greased tray. Flatten evenly with rubber spatula. Garnish with Slivered Almonds. Chill and Cut into any desired shape. Roll into cashew nuts coarse powder. Serve.
Or Let it cool. Scoop a table spoon of mixture. Roll it into a ball. Poke your finger down into the center of each Pumpkin mixture ball.
Using a fork or toothpick stand it up beside the dough ball, and press in your indentations for the pumpkin grooves.
In the center of each pumpkin ball insert raisins. And garnish it with mint leaves, crushed dry fruits, raisins. Serve.
Store up to 1 week in an airtight container in the freeze.