Punagulu (dosa Batter Fritters)
Punagulu is a popular dish in the coastal areas of Andhra Pradesh. It is a variant of the usual bonda prepared in the state of Kerala. But the difference is that instead of besan flour, fermented idly dough is used to prepare punagulu. I usually prepare this recipe with left-over dosa batter as an evening snack for our family. It is simple recipe and goes best with coconut chutney.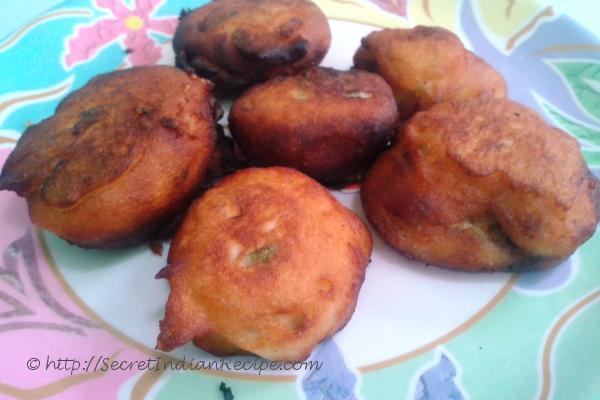 Ingredients:
Dosa batter - 2 cups.
Salt - as you need.
Curry leaves- 1 sprig.
Cumin seeds - 1 pinch.
Green chilli - 4 nos.
Onion chopped - 1 small.
Ginger chopped - 1 teaspoon.
Oil - to deep fry.
Powdered rice flakes -1/2 cup (optional).
Grated coconut - 1 tablespoon.
Directions:
First mix all the ingredients except the oil and keep it aside for about 30 minutes.
If the mixture is too watery, you can make it thick by adding powdered rice flakes.
The consistency of the mixture should be that it should not be too thick or watery.
After 30 minutes, place a kadai or frying pan on the stove and switch on the stove.
Add oil into it and heat it.
When the oil is hot, pour one tablespoon of the batter into the oil and fry it stirring occasionally.
When both the sides turn brown, and when it is crispy, take it out from the oil and place it over a kitchen tissue.
Serve hot with coconut chutney.
Footnotes:
You can add spinach leaves or any vegetables of your choice like carrot, beetroot, etc. to make this dish.