Pundi Gatti ( Rice Dumpling From Udupi, Karnataka Cuisine)
In view of the theme of the contest , Indian Breakfast Recipes, here I bring a traditional south indian breakfast, Pundi Gatti , Famously known as Pundi in Udupi, a district in Karnataka, this is a soft rice ball prepared by soaking, grinding, tempering, cooking and finally steaming rice. This differs from idli as this dish is flavored by grated coconut. It is a simple recipe which can go wrong if you do not pay attention to small details. The dumplings are served hot with sambhar/curry and chutney. You can serve it alone as a side dish or soaked in curry. My mother in law had prepared this dish for me. I tried to replicate the dish. These rice balls really came out soft and yummy. Try and enjoy this healthy breakfast at home anytime.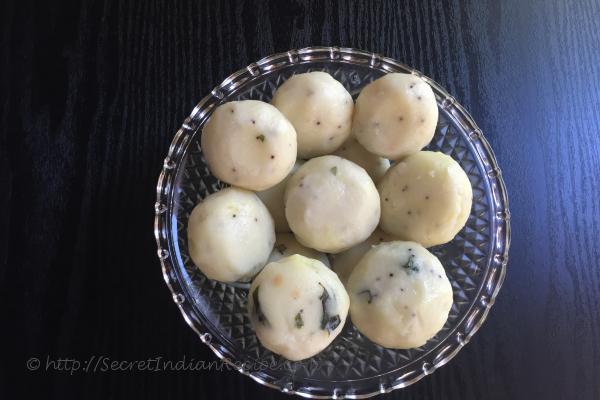 Ingredients:
1/2 cup Idly Rice
1/2 cup Normal Rice (sona masoori or basmati rice)
1 cup grated Coconut
Salt as required
1/2 tsp Mustard seeds
1/2 tsp Urad dal (skinless and split black gram dal)
2 tsp Coconut oil or refined olive oil or sunflower oil or canola oil
10-12 Curry leaves
Cooking oil for greasing steamer plates (as required)
Directions:
Wash and clean the idly rice and the normal rice 2-3 times with water and soak them together overnight or atleast for 2 hours.
Drain the soaked rice and let it drain on a rice colander for atleast 15 minutes. Add the drained rice into a mixer/blender. Add grated coconut and 1 cup water. Grind it coarsely and not very finely. Add the ground rice mixture into a large skillet or wok and add salt into it. Keep it aside.
Take another pan for tempering and heat it. Add 2 tsp oil and when the oil is heated, add mustard seeds. When the seeds stop to splutter, add urad dal and curry leaves and saute till dal turns light golden colour. Add the tempering into the rice mixture and now heat the wok on low medium flame. Keep stirring in between and cook till the mixture attains a dough like consistency.
Remove the wok from heat. Cover it with a lid and let it rest for 3-4 minutes but not longer. The rice balls should be made when they are still warm. Take some water in a bowl. Wet your hands and start preparing medium size balls from the dough. You can give it any shape round, circular or oval.
Take the idly steamer and fill it with enough water for steaming purpose. Bring the water to a boil. This will take 10-15 minutes. In the meantime, grease the steamer plates and place the the rice balls into the molds. When the water starts boiling, put the idly stand along with the steamer plates into the steamer. Cover it with the lid and steam it on medium flame for 15-20 minutes.
Insert a toothpick to check if it is cooked. If the toothpick comes out clean, then it is done else steam cook it for another 5 minutes. When the rice balls are cooked, take it out on a plate. Serve it hot with sambhar/curry and chutney.
Footnotes:
My Tip: First, equal proportion of idly rice and normal rice should be taken as using only idly rice will make the dumplings hard. Second, the mixture of rice and coconut should be coarsely ground and not finely ground as it would become sticky. Third, prepare the rice balls when the dough is warm.