Pundi Kattu (rava Ball)
This is a lovely breakfast that will keep u going all day without feeling hungry
With vegetables, it makes for a nutritious meal for children and adults too.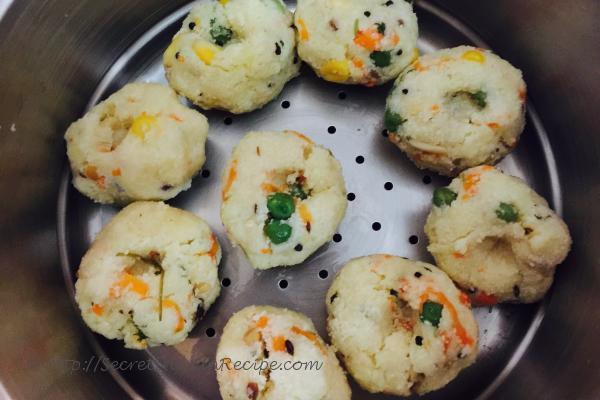 Ingredients:
Idli rava- 2 cups
Carrots - 1 grated (optional)
Peas -hand full (optional)
American corn - hand full (optional)
Green chilli , slit diagonal 1 or 2
Curry leaves
Water : 4 to 5 cups ( depends on the texture of the rava, add more if needed)
Grated Coconut - 1/2 cup
INGREDIENTS FOR SEASONING
Oil refined 1 tbl spoon
Rai (mustard ) 1 tsp
Jeera (cumin ) 1 tsp
Urad dal (black lentils)polished split 1tsp
Curry leaf
One round red chilli ( bore )
Channa dal ( slightly pounded ) 1 tbsp
Directions:
In a wok, season it by adding oil ,jeera ,urad dal,rai , red chilli. Fry the channa dal. As the channa dal turns slightly brown, add the curry leaf .
Then add idli Rava. Once the idli Rava is well roasted, add the vegetables and water. Once the rava is cooked, cool it.
Make a ball of the rava, and make a small depression on it. Take a steamer or idli vessel. Once the water boils, place the Rava balls and steam it until the Rava is cooked well.
Serve hot. You can serve it with chutney powder , or red chutney or pickle children love it with jaggery and butter .
Footnotes:
Smear oil on the surface of the steamer or the idli vessel before placing the rava ball in it so that the rava ball doesn't stick to the surface of the vessel .