Punjabi Chicken Tikka (punjabi Style Grilled Chicken)
A delicious Starter.Chicken Tikka is a traditional and very popular Indian Chicken dish which is bursting full of flavor & colour.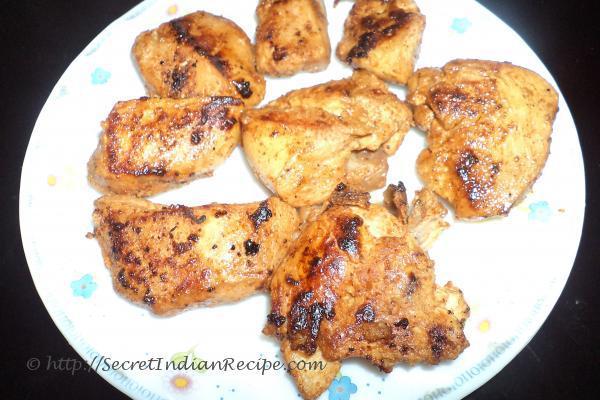 Ingredients:
Chicken Boneless-400 gm
Red chili powder-1/5 tbsp
Salt to taste
Curd-100 gm
Lemon Juice-1/3 tbsp
Turmeric powder-1/4 tbsp
Directions:
Make some Cuts into the chicken pieces. Take a bowl. Put the chicken into it.
Add turmeric powder, salt and chili powder into it. Leave for 30 minutes.
Afterwards, add curd and lemon juice into it. Mix it well and keep it in the fridge for 4-5hrs so that it get marinated well.
Heat a grill pan spread oil on it, let it heat for few seconds. Put chicken pieces on it one by one nicely.
Grill the chicken for about 15 minutes till it gets golden in color, and cooked properly.
After that your dish will be ready to be served.
Footnotes:
Serve hot with Garlic sauce or any other you like,Enjoy.:-)
Other Indian Recipes that you may Like !