Puran Poli ( Mahashtrian Roti Made With Jaggery )
Married in a maharashtrian family is a complete bliss for me. Every day is new day for me with a variety of new and tasty recipes. Today we will try a very popular maharashtrian dish made during the festive occasions but if you like something, do you really wait for an occasion?
This traditional recipe is made during ganesh chaturthi or diwali. Puran means a sweet filling and poli means roti in Marathi – so this dish is basically a roti with sweet filling made with channa daal and jaggery.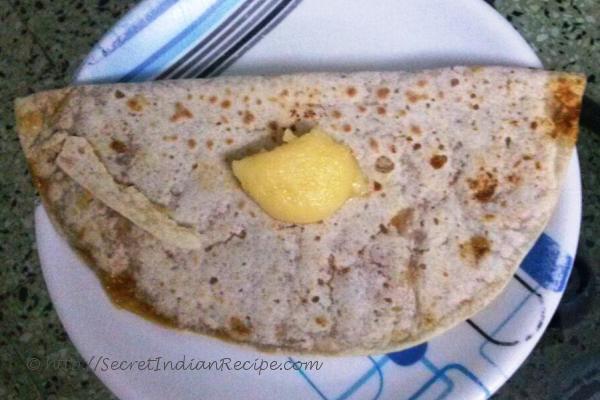 Ingredients:
Powdered Jaggery / Gur 1 cup
Channa daal 1 cup ( boiled)
Saunf powder 1 tbs
Cardamom powder 1 tbs
Jaiphal Powder/ nutmeg 1/2 tbs
Ghee 2 tbs
Dry Ginger Powder 1 tbs
Directions:
Soak the channa daal for 30 minutes to one hour and then give it 5-6 whistles.
Strain the daal and keep it in the strainer because the stock has to strained completely.
In a pan, heat the ghee and add ginger powder, jaiphal powder, saunf powder and cardmom powder to it. Mix it with the ghee and saute for a few seconds.
Add the boiled channa daal and powdered jaggery. Stir all the ingredients and let the puran mixture cook on a low flame till the mixture becomes dry.
Now when your puran mixture is ready and dry, mash it well with a masher. The puran mixture should be thick and dry - keep it aside for 15 minutes to cool down.
Take a ball of wheat dough and add the puran mixture and roll it well, make a round roti out of it.
Heat the tawa and put some ghee on it. Place the rolled poli/ roti on the tawa.
Apply ghee on both sides of the poli and cook it till it turns brown on both sides.
Footnotes:
While rolling the poli, be careful, the puran polis may break as the mixture is very soft. but that should not stop you from making puran polis, with practice one gets better. Serve it hot with ghee. Happy Cooking!