Puran Poli (soft Indian Flat Bread With Sweet Jaggery Stuffing)
Puran Poli or Purnachi Poli is a popular Maharashtrian and Gujarati dish. In Maharashtra it is prepared during Holi. This is a delicious sweet recipe which is not a dessert but in fact a main dish.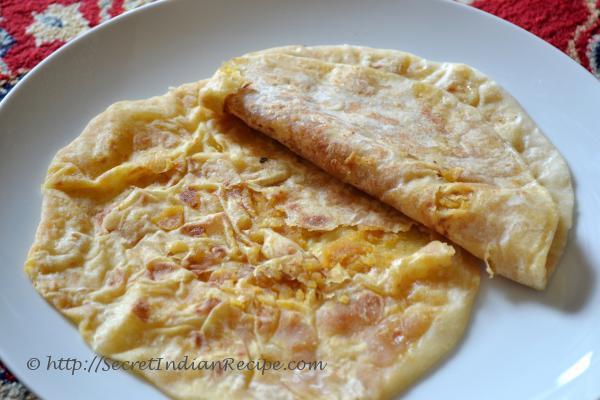 Ingredients:
500 gms Maida (plain flour)
500 gms chana dal (Split Bengal gram)
400 gms Gud (jaggery) - Grated or coarsely chopped
1 tsp Cardamom Powder
150 ml Oil
Pinch of Salt
Ghee to serve
Warm water to knead the dough
Directions:
Soak the dal for 1 hour and pressure cook it with a pinch of salt till it is completely cooked and soft
Strain the dal. In a blender blend Jaggery, dal and cardamom powder to a fine mixture
Transfer the mixture in to a non-stick pan and cook on low heat till it becomes dry completely. It should form into a stiff non-sticky mixture. With this your Puran(stuffing) is ready
For the outer covering the Poli, take maida, a pinch of salt, add oil, knead with warm water. The dough should be similar to chapati dough but just a little more softer and loose.
Make about 15 equal parts of the pooran and dough, like any paratha, roll out the dough into a small circle, place the puran in centre and cover from all sides. Roll out the poli gently and dry roast on a tawa or pan
Cook on both sides on medium heat till it turns a slight golden brown and is cooked well. (About 1/2 min on each side)
Serve hot with loads of ghee drizzled on top centre
Footnotes:
Do not compromise with the quantity of oil as the polis may turn out hard and dry.
Puran Poli is also served with warm milk in many Marathi households