Pure Veg Bengali Moong Daal
Moong daal is a very popular dish in Bengal but usually prepared with fish head. But this can also be prepared in a vegetarian method.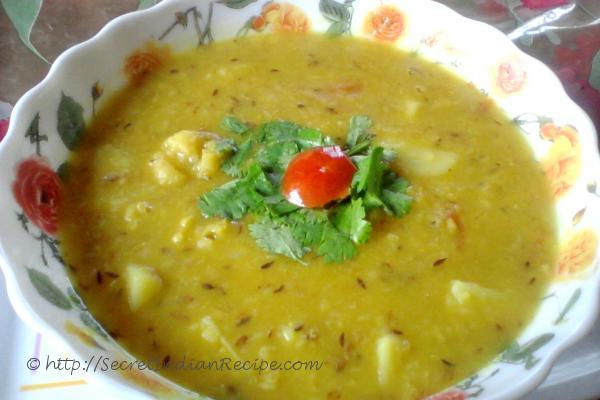 Ingredients:
Moong Daal- 150g
Cauliflower- 1small
Potato- 2nos
Tomato Chopped- 3pc
Green Chilli- 4pcs
Coriander Leaf- 1branch
Cumin seed- 1/2tsp
Red chilli whole- 2pcs
Bay leaf- 1pc
Turmeric- 1/2tsp
Salt & Sugar- to taste
Peas
Oil- 4tsp
Directions:
Fry the Daal in a dry pan without oil and then half boil it with salt and turmeric.
Now,heat a pan with oil and put thr cumin seed, red chilli and the bay leaf.
Now add the sliced cauliflower and potatoes till it becomes golden in colour.
Then, add the chopped tomatoes, salt, sugar and the peas followed by the half boiled daal.
When all are well cooked, add coriander and green chillies and take it off the oven.