Pyaaz Ki Kachori (onion Stuffed Kachories)
During my Rajasthan trip, I learnt many Rajasthani cuisine....Pyaaz Ki Kachori is one of them. The taste is totally unique and is one of the secret Indian recipes. Pyaaz Ki Kachori and a cup of tea...a drooling combination to boost your day.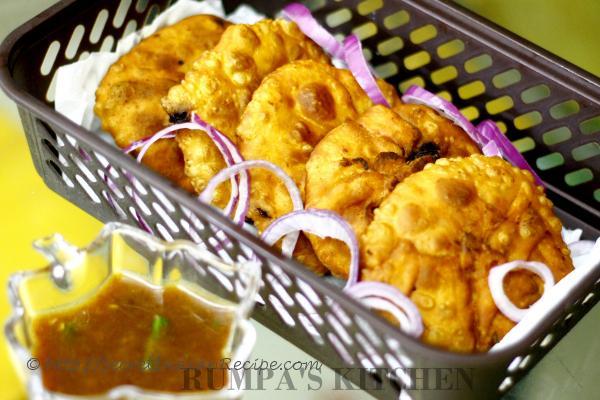 Ingredients:
Onions chopped 3 large
Refined flour (maida) sieved 2 cups
Ghee 1/4 cup
Cumin seeds 1 teaspoon
Asafoetida a pinch
Coriander seeds crushed 2 teaspoon
Salt to taste
Garlic chopped 5-6 cloves
Ginger finely chopped 1 inch
Green chillies finely chopped 2-3
Red chilli powder 1 teaspoon
Fresh coriander leaves finely chopped 2 tablespoons
Oil to deep fry
Directions:
Heat one and a half tablespoons of ghee in a kadai. Add cumin seeds and asafoetida. When the cumin seeds begin to change colour, add crushed coriander seeds and sauté for half a minute
Add chopped onions, salt and continue to sauté. When onions are lightly browned add chopped garlic, ginger, green chillies and red chilli powder. Mix and saute for a minute.
Remove from heat. Set aside to cool. Take refined flour in a bowl. Add the remaining ghee (melted) and salt. Add sufficient water and knead into a stiff dough.
Cover with a moist cloth and rest for fifteen minutes. Divide the dough into twelve equal portions. Apply a little ghee and roll out into small puris. Add chopped coriander leaves to the onion mixture and mix.
Divide into twelve equal portions. Place one portion in the centre of the puri, gather the edges and seal. Press gently and pat with hands to flatten the kachori a bit, keeping the sides thin. Prick with a fork
Similarly prepare other kachoris. Heat sufficient oil in a kadai till hot. Deep-fry the kachoris on high heat till golden.
Drain on an absorbent paper and serve hot.