Pyazwali Kalmi Saag.
Kalmi saag is a leafy vegetable that is avialble mostly in summer. It is grown in wetland and has very cooling effect on body. Here is a simple recipe to cook kalmi saag along with onion.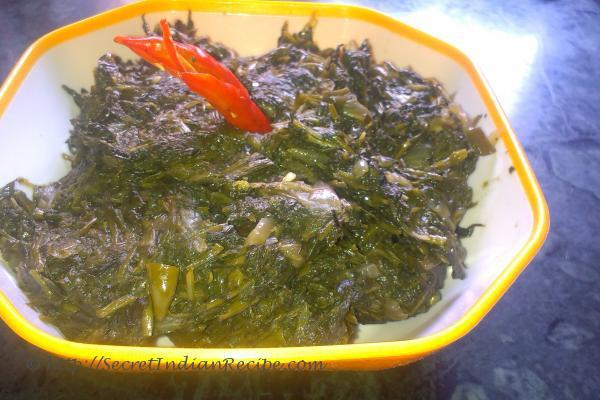 Ingredients:
Kalmi saag – 1 bunch
Onion – 2 pieces
Garlic – 6-7 cloves
Green chilli – 3-4 pieces
Mustard oil – 4 tablespoon
Salt – ½ tablespoon
Directions:
Wash and chop the kalmi saag in small pieces. Slice the onions and chop garlic.
Heat oil in a karahi and add chopped garlic and green chillies.saute for few seconds and then add sliced onions. Fry the onions till they become light brown.
Now add kalmi saag and salt and mix well. Put a lid on and cook on low heat for about 15 mintues. Keep stirring in between. Once the saag is done, use a flat spatuala and mash the saag. Fry till all the water evaporates and required consisitency is reached. Serve with plain rice and dal.