Quesadilla (stuffed Tortillas)
We Indians are very fond of eating spicy foods. Even till today few common habits seems to be alive which we got from our forefathers. Irrespective of the food we had the habit of eating, raw onion and chilies along with it still seen in all the people. We are the spicie loversg in the world but we also have very close competitor as far as spice is concerned.
It is seen that Mexican people too are spice lovers in fact they are an inch ahead of us. Their food comprises of at list 3 chilies in together.
To all those spice lovers I bring this stuffed Mexican tortillas recipe for savoring. The stuffing I am using is what I have experimented in hotels. But the varieties of stuffing which can be used are countless. From minced meat to sausages and cottage cheese to any vegetables can be stuffed in with cheese. You too can create your own stuffing. Generally Oaxaca cheese is used in it but if the availability doesn't permits, you can also use any process cheese or mozzarella.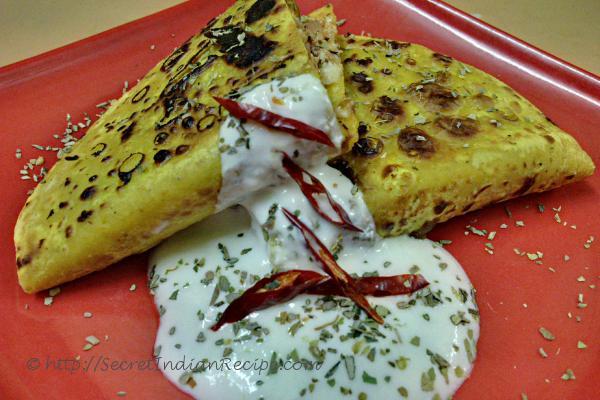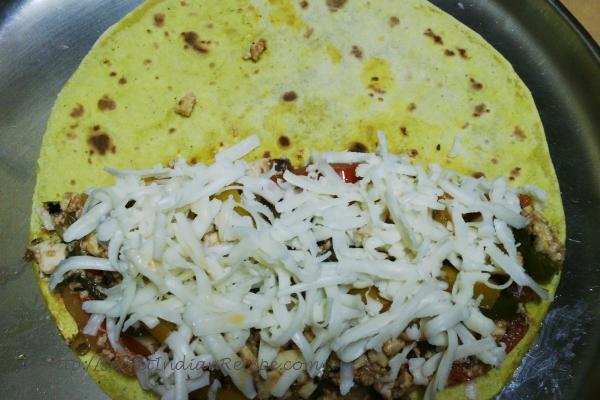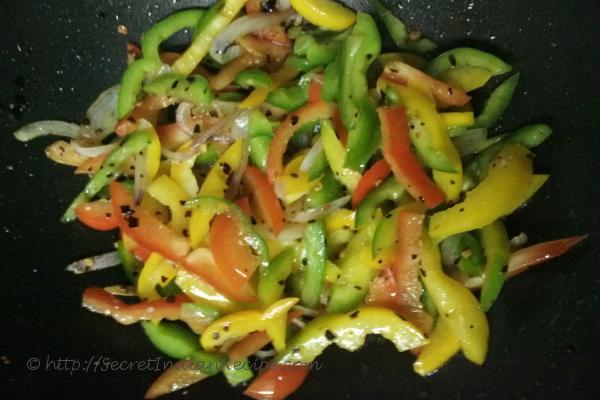 Ingredients:
Corn's flour or wheat flour- 200gm
Salt- To taste
Crushed black pepper- To taste
Water- 1 cup
For stuffing-
Sliced Onion- 1
Sliced Green capsicum- 1/4
Sliced Red bell pepper- 1/4
Sliced Yellow bell pepper- 1/4
Slit Serrano chilies (optional)- 4
Sweet corn- ½ cup
Diced Jalapenos- ½ cup
Red chili paste- 1/2tbsp
Tomato puree- 1cup
Oil- 100ml
Chopped coriander- 2 tbsp
Salt- To taste
Sugar- To taste
Lemon juice- 2tbsp
Dry oregano- 1tbsp
Grated cheese (Process or mozzarella)- 1cup
Directions:
Prepare soft dough from corns or wheat flour, salt and pepper.
Cover with a muslin cloth and allow it to rest for 10 minutes.
Heat oil in a kadai and crackle pinch oregano in it.
Add onion slices and cook until translucent.
Now add chili paste stirring it on a medium flame for a minute.
Pour in the tomato puree and cook until it leaves its raw smell.
Add all the sliced capsicum, bell peppers and sweet corn stirring it for another 2 minutes.
Then add Serrano chilies, chopped coriander and jalapenos cooking it for another 2 minutes.
Finish it with Lemon juice, dry oregano, salt and sugar.
Now divide the Dough into 4 balls of desired size.
Roll them flat and pierce it with a fork.
Braise both side of this on a pan making sure it does not get color.
Now fill the stuffing on the tortilla creating a half moon shape on it as shown in the picture.
Spread grated cheese on it and cover it by folding creating a half moon shape.
Heat oil in a pan and grill both sides of it until it gets a nice grilling mark on it or the cheese melts completely.
Serve hot with tomato salsa or sour cream.
Footnotes:
Serrano chilies can be replaced with green chilies as well.
For kneading the dough use lukewarm water. It will make your dough soft.
Instead of grilling you can also bake it in a preheated oven at 220⁰C for 15 minutes.