Quick And Easy Salad
Quick Cabbage salad is yummy recipe, with Indian Flavors and a great side to go with any Indian meal or dish. I usually serve this with heavy paneer or meat dishes. It's light, it's tangy and it's healthy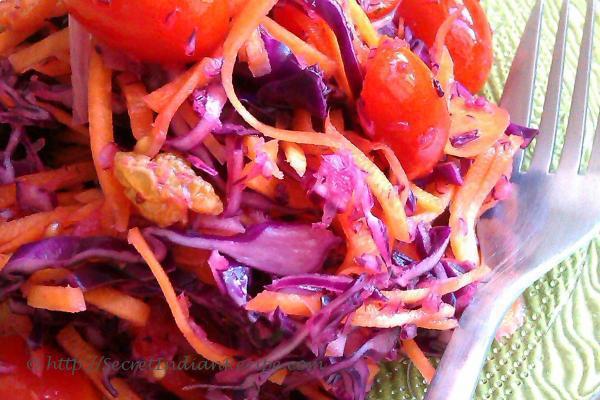 Ingredients:
2 cups of Red Cabbage finely Julienned
1 Cup Cherry tomatoes, sliced in between
1 Cup Carrots finely Julienned
2 tbsp Lemon juice
1/2 Tsp brown sugar
1/2 Tsp salt (opt)
Pinch of Chaat masala (Opt)
2 Tbsp Raisins or about a handful
Directions:
In a large bowl, take the Cabbage, Tomatoes and Carrots and toss them well
In a separate small bowl prepare the dressing by mixing lemon juice, sugar, salt and Chaat masala (just a pinch & not more). Add this dressing to the vegetables and miss all ingredients well
Garnish with raisins. Serve as a side with any Indian meal.
Footnotes:
You may add, beans, sprouts, fruits, bell peppers, other nuts etc anything that can be eaten raw can be added to this salad.
If you don't get/have red cabbage you can also use green cabbage