30 Mintues Kerala Style Chicken Cutlet
Chicken Cutlet is a popular evening snack or appetizer recipe in India. Kerala style Chicken cutlet is bit different from what I have had in Kolkata. The secret ingredient is the use of Curry leaves and some chopped vegetables, which give a unique flavor to this recipe. For a better taste always use fresh chicken than packaged ones.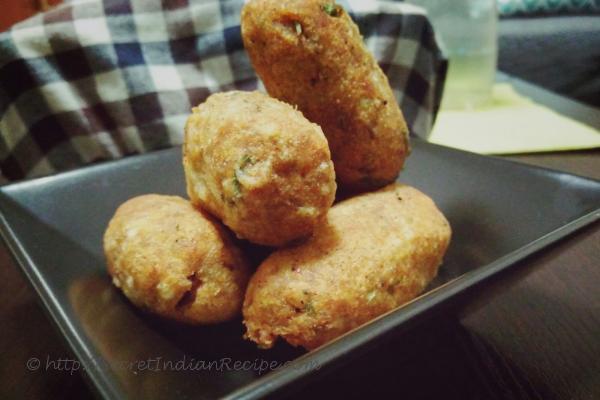 Ingredients:
Minced Chicken – 250 grams
Boiled Potato - 2 medium sized
Carrots – ½ bowl of half the quantity of chicken finely chopped
French beans - 50 grams finely chopped
Onion – 1 medium sized chopped
Ginger and Garlic – 2 tablespoons chopped or paste
Green Chilies – 2-3 chopped
Turmeric powder – 1 teaspoon
Curry leaves - few
Roast and powder
Red chilli – 1 small sized or as per preference
Black pepper – 4-5
Cardamom – 2
Clove – 2
Cinnamon – 1 small piece
Mace – 1 tiny piece
Cumin – 1 teaspoon
For Binding –
2 Egg whites
Bread crumbs
Salt to taste
Oil to fry.
Directions:
Start by roasting the whole spices, Chilli, cardamom, cloves, cinnamon and cumin on very low heat and for about 20 seconds. Grind into powder when they are still warm.
Boil the chicken in a pressure cooker for 2 whistles. Blanch the chopped carrots and beans and let them cool.
Take out the chicken and squeeze the excess water. Similarly take out the blanched carrots and beans and squeeze water.
Heat 4 tablespoons oil in a pan. First sauté the onions till light brown. Add chopped ginger, garlic, green chilies and curry leaves. Mix.
Add blanched vegetables, minced chiken and mashed potatoes. Mix again
Add the turmeric powder, roasted spices and salt to taste. Mix and let it cool a bit.
Take equal sized portion from the mixture and shape into cutlets.
Heat oil for frying. Dip each cutlet in Egg white and then roll over the bread crumbs.
Fry in hot oil for 5-6 mintues. Serve hot.