Quick Instant Handvo
Handvo is a Gujarati dish, generally requires soaking, grinding of rice and dals. But today with lots of responsibilities we are generally running short of time. So here my take on this quick Handva recipe.This is our family recipe. My grandmaa used to make Handvo for us and still the legacy continues. Handvo tastes good when it is hot and even better when it is cold. So you can carry it on picnics or office. It is the best tea time dish to go with your cuppa of Tea. Please give a try.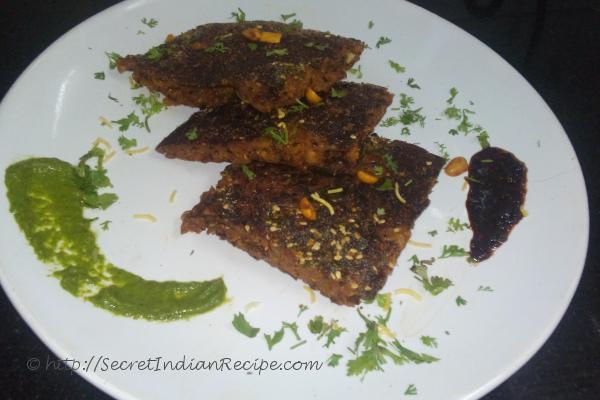 Ingredients:
Dhokla batter-1cup, readily available at any grocery store
Rawa-2tbs
Peanuts-Handfull
Sesame seeds-1to2tspn
Ginger Chilli paste-2tspn
Salt-according to taste
Sweet pickle-2to 3tbspn
Red Garlic chatney-2tspn
Carrot-1/4cup
Bottle gourd-1/4cup
Onion-1 finely chopped
For Tadka-
Oil-5-6tbs
Mustard seeds-1to 2tsp
Sesame seeds-1to 2tsp
Kadi patta
Hing-1tsp
Directions:
First mix 2tabs of Rawa to your dhokla batter.
Now take some oil in a pan and saute all the above ingredients.
Let the mixture come to the room temperature.
And add to the dhokla batter, Let it rest for sometimes.
Now prepare Tadka in a pan by using the tadka ingredients.
Add the Dhokla batter to the Tadka.
Let it cook for 15-20minutes. till golden brown and crusty from both the sides.
Footnotes:
You can bake Handva in oven also,
But if u want the crusty top then batter to make on Gas.