Quick Paneer Pulao (rice Cooked With Cottage Cheese)
I learned this recipe in a small hotel kitchen where we stayed on my way to haridwar for a ' Kumbh Snan' (Holy bath in Ganges). On that day,we were very tired standing in the queue and walking bare feet for the whole day. When we returned to our hotel, I saw a little boy standing near our door. He requested us to have dinner. We were all very hungry. He brought paneer pulao and aloo dum. Although, I was really tired and could have had anything but when I had this paneer pulao, it was really soft, simple and delicious. Before leaving, I learned the recipe from the boy's mother.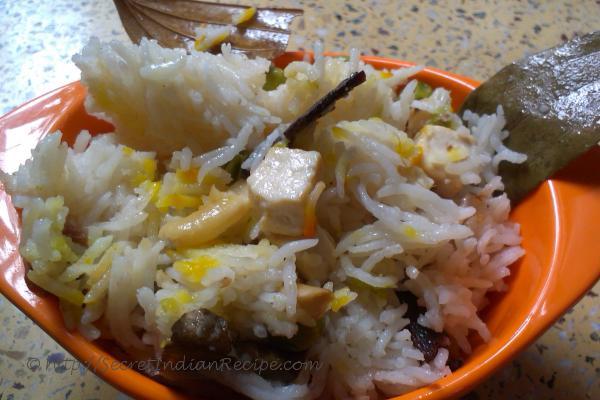 Ingredients:
Basmati Rice – 250 grams (Soaked in water for 30 mintues)
Paneer (Cottage cheese) -100 grams
Cashew – 2 tablespoon
Raisins – 2 tablespoon
Cloves – 2 pieces
Bay leaves – 2 leaves
Cardamom – 2 pieces
Cinnamon – ½ inch piece
Mace – ½ inch piece
Oil – 1 and ½ tablespoon
Ghee – 1 tablespoon
Sugar- a pinch
Salt - as needed.
Biryani essence – 2-3 drops (optional)
Directions:
Cut the paneer into ½ inch piece and keep aside.
Heat oil in a pan and fry the paneer till the sides start turning brown. Take them out and keep aside.
Drain the excess water from the rice and pour it in the remaining oil. Saute on medium heat for a minute.
Transfer the rice in a pressure cooker.
Now heat ghee in the same pan. Put bay leaves, cloves, cardamom, cinnamon and mace. Once they start popping up, add cashew and raisins and switch off the gas.
Pour this tempering over the rice. Add paneer, salt, sugar and biryani essence and mix.
Pour 350 ml of water and pressure cook upto one whistle.
Serve hot with Paneer sabzi.