Quick Pressure Cooker Rasgullas
I am grateful to my friend Manjula who taught me this recipe as I am a big fan of Bengali sweets. Since then we hardly buy them for a sweet shop .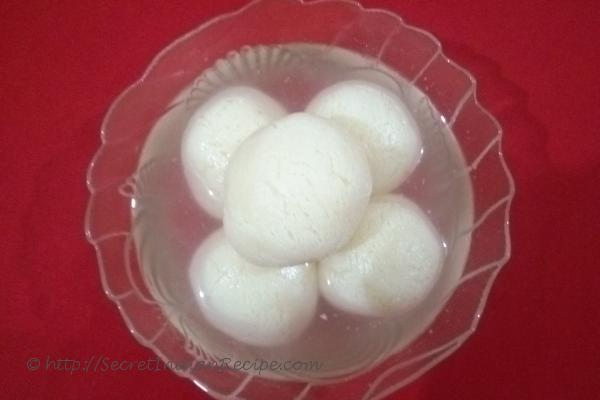 Ingredients:
8 cups Milk
4 cups water
I cup Sugar
2 tbsp lemon juice
A piece of Muslin cloth
Directions:
1.Boil milk and then add lemon juice to cuddle it. As soon as the whey and chena (paneer) separates put off the gas stove.
2.Drain the chena into a muslin cloth and rinse it thoroughly with water. Squeeze out all the water then tie muslin cloth and hang it for not more than 1 hour .
3 . After an hour remove chena from muslin cloth and kneed it with the heels of the hand ensuring that not even a single lump is left. Kneed the chena till it turns into a soft dough like texture.
4.Now divide the chena into 12 equal parts and make smooth balls without any cracks.keep aside
5 . In a pressure cooker heat 4 cups of water and 1 cup sugar. Bring this mixture to a boil and ensure that sugar has completely dissolved. Simmer the gas and put chena balls one by one into the pressure cooker. The balls will double in size after cooking., so put the balls accordingly in the cooker.
6 . Close the pressure cooker and after the release of one whistle simmer the gas and cook for seven minutes then turn off the gas stove.
7.when the pressure of cooker is fully released then remove the lid and let the rasgullas cool completely. Refregrate and chill rasgullas before serving .
Footnotes:
Do not cook milk after cuddling otherwise rasgullas won't turn out soft.