Quick Snack : Curry Wurstc (indian Syle)
Curry Wurst is a fast food, it's quick and simple and everyone loves it. Originally it is served as steamed and fried pork sausage, with absolutely phenomenal curry wurst sauce. Making a vegetarian version was interesting. I used potato and home made paneer with spices to make
the sausage, with combination of spicy curry, flavored ketchup.You can play around with the ingredients of the sausage, but the magic is in the curry sauce.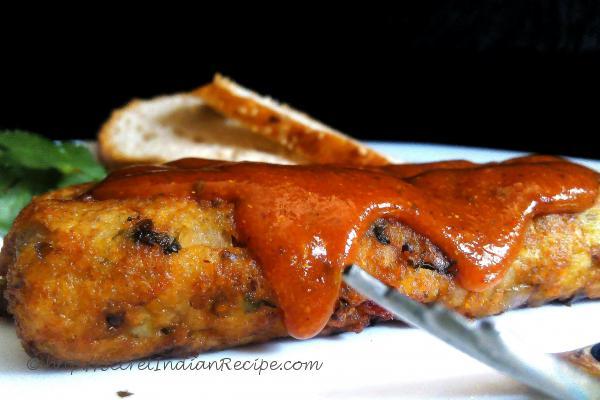 Ingredients:
One cup boiled and mashed Potatoes
Half cup grated Paneer
One small Onion chopped
Quarter cup of crushed Cashew nuts
Fresh Coriander chopped
1 Tablespoon of Garam masala
Teaspoon of crushed Mustard seeds and Coriander seeds
Red chilli powder according to taste
One tablespoon of ginger, garlic paste
Salt to taste
Green chilli (optional)
Vegetable oil to deep fry
INGREDIENTS FOR CURRY POWDER-
One tablespoon of cumin seeds
One tablespoon of mustard seeds
One tablespoon of coriander seeds
Half tablespoon of fennel seeds
3 to 4 cloves
7 to 8 whole black pepper
One small cinnamon stick
Turmeric powder half tablespoon
INGREDIENTS FOR CURRY SAUCE –
Half a cup of tomato ketchup
3 tablespoons of red chilly sauce
One tablespoon of vinegar
One tablespoon of mustard sauce
Two tablespoons of curry powder
Salt and little bit of sugar to balance the final flavor
Directions:
VEGETARIAN SAUSAGE- METHOD Mix all these ingredients in a big bowl, Shape them into long sausage.Deep fry them one by one in hot oil. Make sure that your oil is hot enough for deep frying.
CURRY POWDER- METHOD Put all the ingredients in a small mixer, and grind till granular powder. Keep this curry powder in a air tight container. We will be using this powder with ketchup to season the sauce.
CURRY SAUCE – METHOD Mix all the ingredients together and do not forget to check on the flavor balance.Curry sauce can be made before hand, and kept in the fridge. This is handy when you are in a real hurry.
TO ASSEMBLE- Put the hot sausages on the plate and pour over the tangy spicy sauce.Serve it with the thin slices of fresh bread. and Enjoy!
Footnotes:
Tip- If the oil is not hot enough the sausage will split.
Tip-This flavorful curry powder can be used in many other dishes too.